Storm Forecast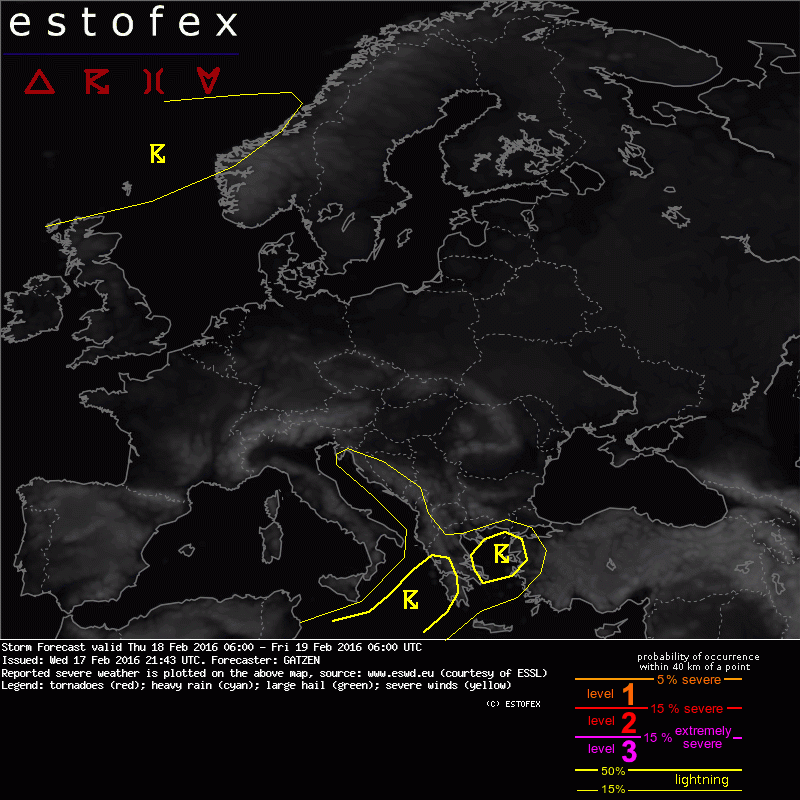 Storm Forecast
Valid: Thu 18 Feb 2016 06:00 to Fri 19 Feb 2016 06:00 UTC
Issued: Wed 17 Feb 2016 21:43
Forecaster: GATZEN
SYNOPSIS / DISCUSSION

Two deep troughs affect western Europe. An Atlantic trough has amplified into the Bay of Biscay, Portugal, and further south. Downstream, a sharp but intense trough stretches from central Scandinavia to Germany and further into the Mediterranean south of Sicily. As the Atlantic trough becomes dominant, the Mediterranean vort-max will move northeast-ward with increasing negative tilt of its axis. Strong synoptic-scale forcing is expected that spreads into Greece and the Aegean region with this trough. Eastern Europe will be still affected by ridging.

At lower levels, dry air is present over most of Europe. A tongue of better moisture is present from the central Mediterranean to Poland along a frontal zone ahead of the European trough. A favourable overlap with steep lapse rates is especially possible near the base of both the Atlantic and the Mediterranean trough. It will result in some thunderstorms spreading from the sea north of Scotland towards Norway and from the Mediterranean south of Sicily to the Aegean region. Given weak vertical wind shear overlapping with the regions of storms, well-organized, severe thunderstorms are not forecast. The best potential exists across western Greece. Strong flow ahead of the trough / low center results in moderately strong vertical wind shear especially across Greece (15 m/s 0-3 km bulk shear). Multicells are expected, but also brief supercells are not ruled out, posing a threat of tornadoes. The threat seems to be too marginal to issue a threat level, though.