Storm Forecast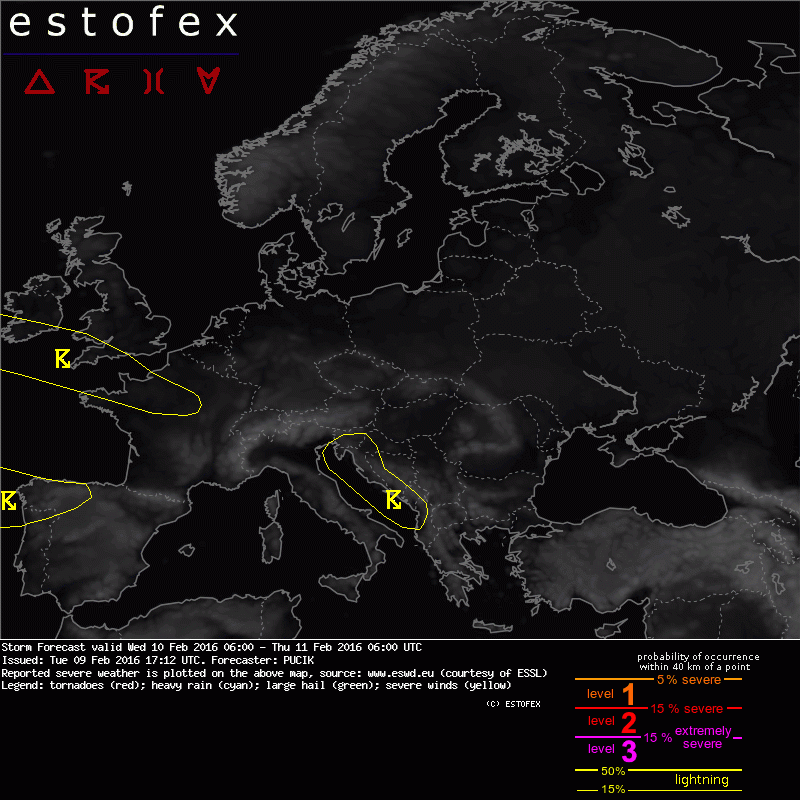 Storm Forecast
Valid: Wed 10 Feb 2016 06:00 to Thu 11 Feb 2016 06:00 UTC
Issued: Tue 09 Feb 2016 17:12
Forecaster: PUCIK
No threat levels have been issued.

SYNOPSIS and DISCUSSION

A very deep trough with its base located over N Italy will stop its southward amplification and continue moving towards N Balkans. Strong upward motion will be observed at its forward flank, in the exit region of cyclonically curved jet with attendant heavy, mostly non-convective precipitation. Heavy precipitation will also be observed over parts of Iberia, where an "atmospheric river" of higher mixing ratios is impinging in the strong westerly flow.

Compared to the previous day, chances of DMC formation will be less pronounced. The most significant area will be the Adriatic Sea, where isolated tstms are forecast near the cold front. As the cold front outruns the trough during the day, separation between the steep lapse rates and relatively moister airmass will increase, reducing the risk towards the afternoon hours. Marginal instability is simulated especially in the morning with strong flow at low levels. Gusty wind and small hail may accompany any cell that develops in this scenario.

Second area with some isolated thunderstorms will be in a narrow belt from the Atlantic ocean towards the NW France, where a belt of 4 g/kg low-level moisture overlaps with lapse rates of around 7 K/km.

Third area will be NW Iberia, where isolated storms will form ahead of the approaching trough, bearing the risk of isolated severe wind gusts especially near the coastline. Threat seems to be too marginal to warrant a Lvl 1 at the moment.