Storm Forecast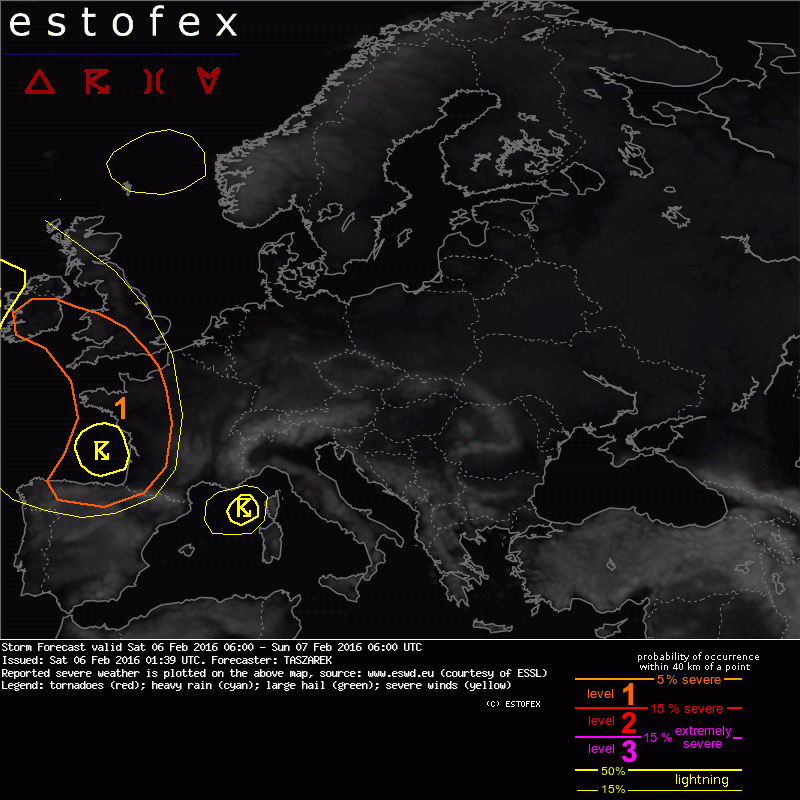 Storm Forecast
Valid: Sat 06 Feb 2016 06:00 to Sun 07 Feb 2016 06:00 UTC
Issued: Sat 06 Feb 2016 01:39
Forecaster: TASZAREK
A level 1 was issued for SW part of British Isles, W France and N Spain maily for the severe wind gusts.

SYNOPSIS and DISCUSSION

An extensive ridge stretching from N Africa to Balkan Peninsula inhibits convective activity on the CNTRL Mediterranean area. However, thunderstorms are likely within the trough over Cyprus, but this is outside of the Estofex forecast domain. The main attention on Saturday focuses on the longwave trough that during a forecast period enters W Europe. A well pronounced cold front with dynamic wind field reaches British Isles, France and Spain in the evening hours. Rather poor boundary layer's moisture content and a steepening lapse rate will result in only marginal thermodynamic instability with low topped convection along the frontal zone. However, due to a favorable synoptic scale lift, a convective enhancement of already strong non-convective wind gust is likely. A bowing segments embedded in the frontal zone capable of producing wind gusts of 25-30 m/s cannot be ruled out. A steepening lapse rates in the cold sector behind the frontal boundary will locally increase CAPE up to few hundredths of J/kg over the marine areas. Thus, an increased lightning potential during the nighttime hours will fall on the Bay of Biscay and waters on the W side of the Ireland where an isolated convection will develop. In the end of the forecast period a development of a shortwave trough on the S France will create favorable conditions for the TS between S French coast and Corsica.