Storm Forecast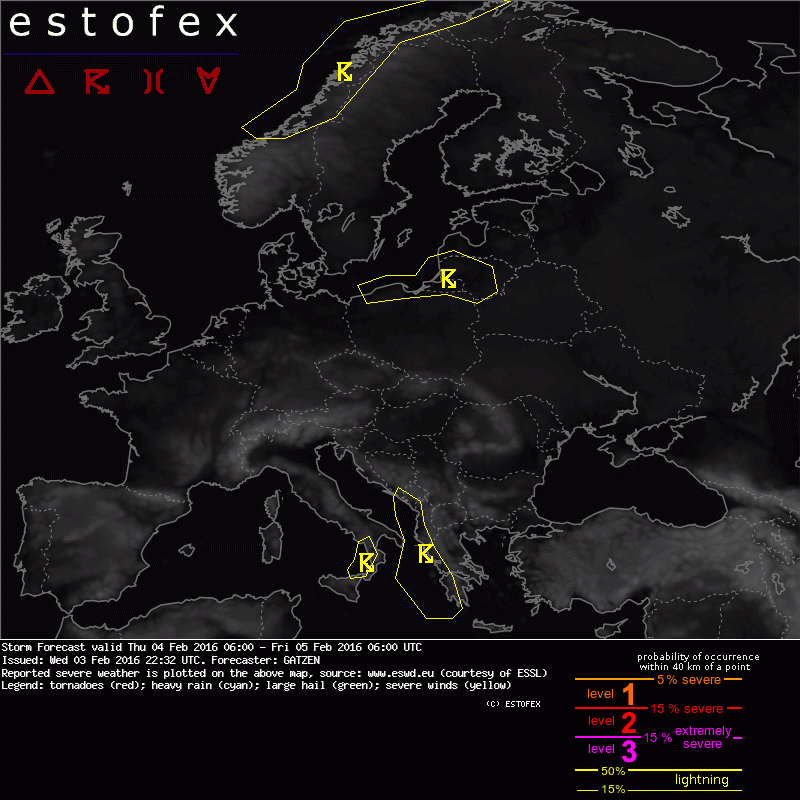 Storm Forecast
Valid: Thu 04 Feb 2016 06:00 to Fri 05 Feb 2016 06:00 UTC
Issued: Wed 03 Feb 2016 22:32
Forecaster: GATZEN
SYNOPSIS AND DISCUSSION

A central European trough amplifies into the central Mediterranean and moves east. An intense vort-max at the southern flank of this trough moves across Italy into the Ionian Sea where it starts to cut off. Upstream, ridging affects western Europe before a new trough approaches over the British Isles.

At lower levels, cold air over central Europe spreads into the central Mediterranean in the wake of a cold front. A warm south-westerly flow affects south-eastern Europe ahead of the trough. Warm air advection is also present over western Europe. Relatively rich low-level moisture is expected over western Europe and ahead of the Europen trough from the east Mediterranean to the Black Sea. These moist air masses do not overlap with steep lapse rates that are expected within the European trough from Scandinavia to the Baltic Sea region and will spread into eastern Europe during the period. Thunderstorms are forecast across the southern Baltic Sea region where moisture is best. A few storms may also be possible further inland. Weak low-level vertical wind shear limits the severe potential. Some more storms may be possible over north-western Scandinavia in also limited vertical wind shear.

Additional storms may be possible ahead of the strong vort-max across the central Mediterranean into the Ionian Sea. Although low-level cold air advection will be present and moist air masses will be replaced by drier air across the Adriatic and Ionian Sea region before the vort-max approaches, some remaining moisture may allow for some CAPE as low-level lapse rates increase in response to stretching. Latest GFS indicates convective initiation from the southern Adriatic to the Ionian Sea in the evening and night hours. Low-level vertical wind shear is weak given according to latest model output, and given weak CAPE and weak low-level convergence, well-organized storms are not expected. Severe threat is therefore very limited.