Storm Forecast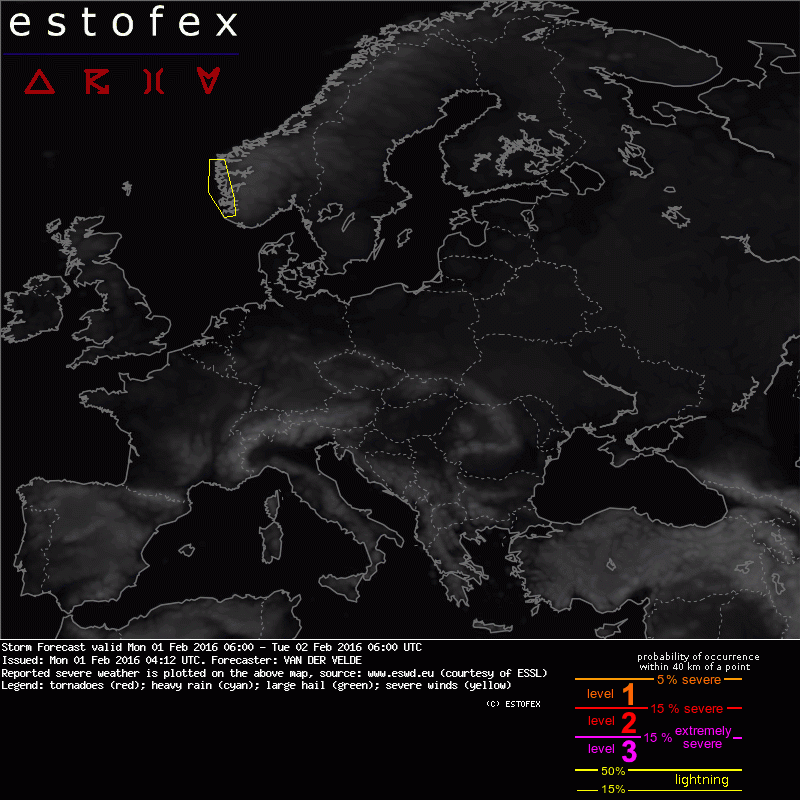 Storm Forecast
Valid: Mon 01 Feb 2016 06:00 to Tue 02 Feb 2016 06:00 UTC
Issued: Mon 01 Feb 2016 04:12
Forecaster: VAN DER VELDE
No threat levels issued.

SYNOPSIS

A cold front belonging to a low pressure system north of Scotland passes the British Isles in the morning. What follows is marginally unstable airmass with some isolated thunder mainly at the SW Norway coast later on, due to cold convective cloud top temperatures there (-40°C) and coastal converge lifting effect. Late in the evening and night a very strong wind maximum associated with a sting jet around the occlusion will give Scotland a blast (45 m/s at 1-3 km AGL), but convection is expected to play an insufficient role to issue any threat level.
To the south, over UK, North Sea and Denmark, also a very strong wind field where some very shallow SBCAPE causes fake signals of STP and SCP in a highly sheared environment. While it is behind a cold front, the airmass lacks lifting, humid air and lapse rates.