Storm Forecast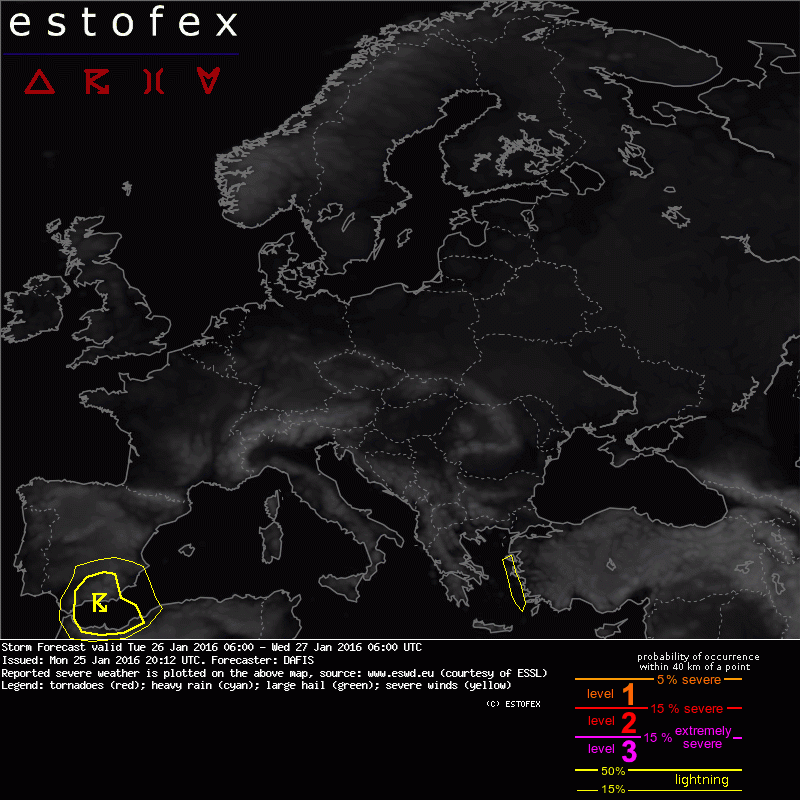 Storm Forecast
Valid: Tue 26 Jan 2016 06:00 to Wed 27 Jan 2016 06:00 UTC
Issued: Mon 25 Jan 2016 20:12
Forecaster: DAFIS
No threat levels issued.

SYNOPSIS / DISCUSSION

A wide ridge extends from W Mediterranean Sea up to Scandinavia, but tomorrow, Tuesday, two shortwave troughs will affect the northern parts of Europe. Another one, will be transformed into a mid-level cut off low over South Spain and North Morocoo. On the surface, a large high pressure system is established over the central Mediterranean. A weak low pressure system over Ukraine is moving towards the Black Sea, an extensive warm front in NE Europe will give plently of snow and rain in the Baltic States, Belarus and NW Russia and two more cyclones are approaching the nothern parts of Ireland and UK.
Convective phenomena are expected in southern parts of Spain and nothern parts of Morocco as GFS forecast some hundreds of CAPE but the lack of low level convergence, the weak LLS (no SREH0-3km), high LCLs and not a good overlap of DLS with CAPE, exclude these areas from a level 1. ECMWF produces much more CIN than GFS and the mid level lapse rates will be at the range of 7-8 K/km. A supplementary ingredient for CI is the strong synoptic lift due to the advection of vorticity. No threats are issued, but some reports of marginal hail are possible.
Some CAPE in East Aegean Sea is forecast, as a shortwave trough with decent vorticity advection will affect the area, and there is a low change of lighting activity.