Storm Forecast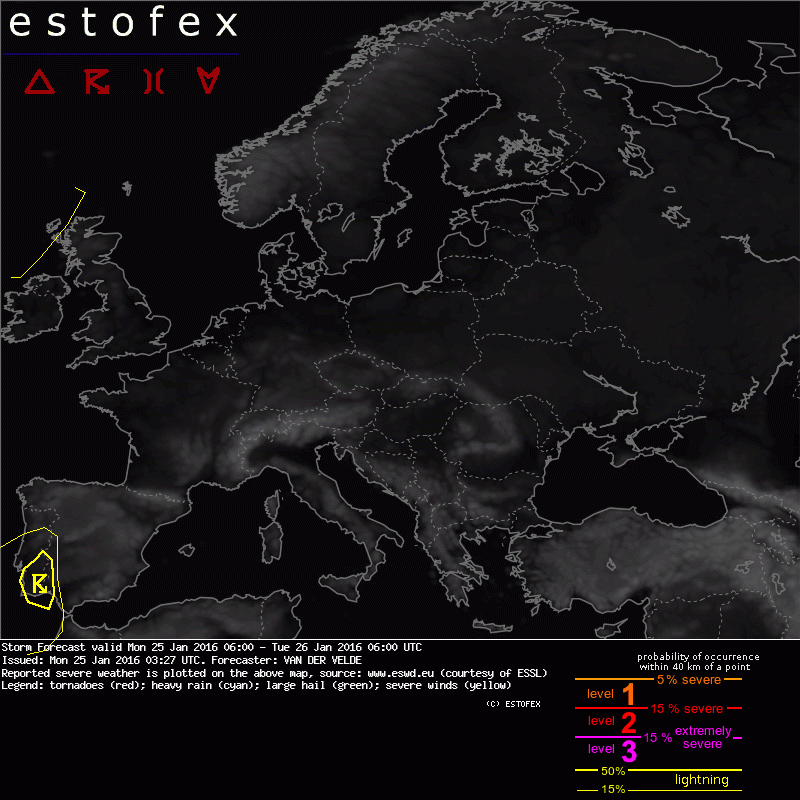 Storm Forecast
Valid: Mon 25 Jan 2016 06:00 to Tue 26 Jan 2016 06:00 UTC
Issued: Mon 25 Jan 2016 03:27
Forecaster: VAN DER VELDE
No threat levels issued.

SYNOPSIS / DISCUSSION

A high amplitude mid level ridge is in place between Algeria and northern Scandinavia, causing calm weather in western and central Europe, while large scale troughs are kept at bay from Iceland / Ireland to Portugal, and a broader one centered on Turkey, with surface low pressure system affecting the Middle East with cold unstable weather.
A shortwave upper trough and weak surface low pressure system is cutting off over the southwestern Iberian Peninsula. Slight CAPE (<500 J/kg) is present over the southern half of Portugal during the day with low convective cloud bases around 600m. As a jet rounds the upper trough, deep layer shear is elevated over 20 m/s and even 0-3 km SREH is enhanced over 100 mē/sē. However, low level shear is missing due to weak surface level pressure gradients. The slight CAPE, low tops and high humidity are not so likely to create strong enough updrafts, so no threat level was issued, but isolated 1 cm hail events may be possible.