Storm Forecast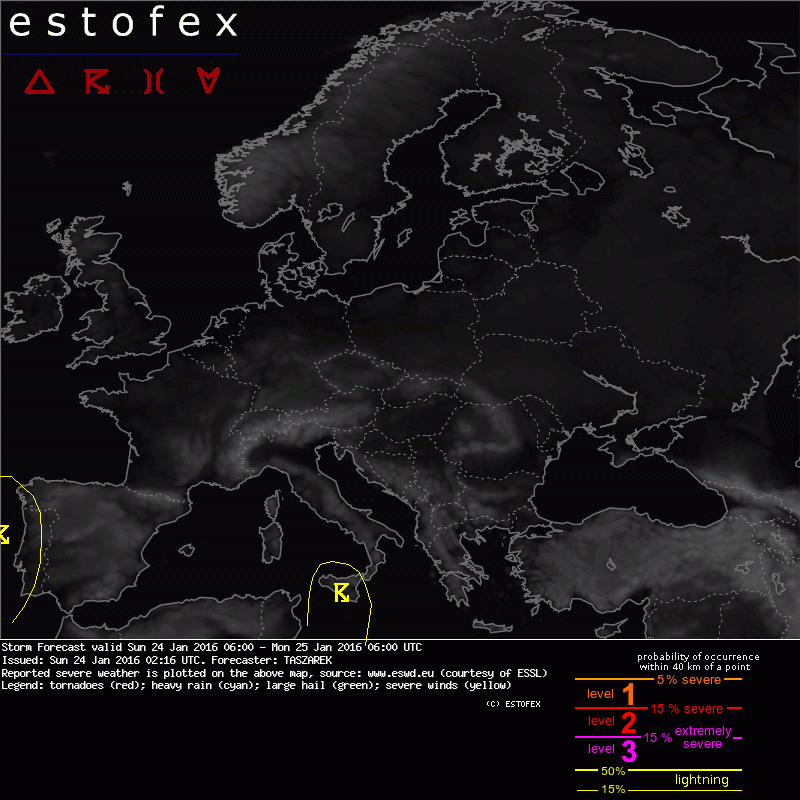 Storm Forecast
Valid: Sun 24 Jan 2016 06:00 to Mon 25 Jan 2016 06:00 UTC
Issued: Sun 24 Jan 2016 02:16
Forecaster: TASZAREK
SYNOPSIS and DISCUSSION

An extensive 1030 hPa high extending from NW Africa to E Europe continue to inhibit convective activity in the most of this area. A small chances for shallow isolated thunderstorms in the environment of marginal thermodynamic instability exist with a shortwave passing during the forecast hours through parts of Sicily and Sicilian Sea.

NW Europe stays under the influence of a SWerly flow of a marine moist and warm air mass. Although a rich boundary layer's moisture content overlaps with a steep vertical lapse rates in mid-levels, weak lapse rates in low-levels result in no thermodynamic instability.

A small chances for the lightning activity are possible within a passage of the warm section and a cold front that in the end of the forecast period will reach western Portuguese coast, and where convective instability will be up to 400-600 J/kg. Although an increased DLS is forecast to overlap with CAPE areas, a weak linear forcing results in only a 15% lig. probability with no level threat areas.