Storm Forecast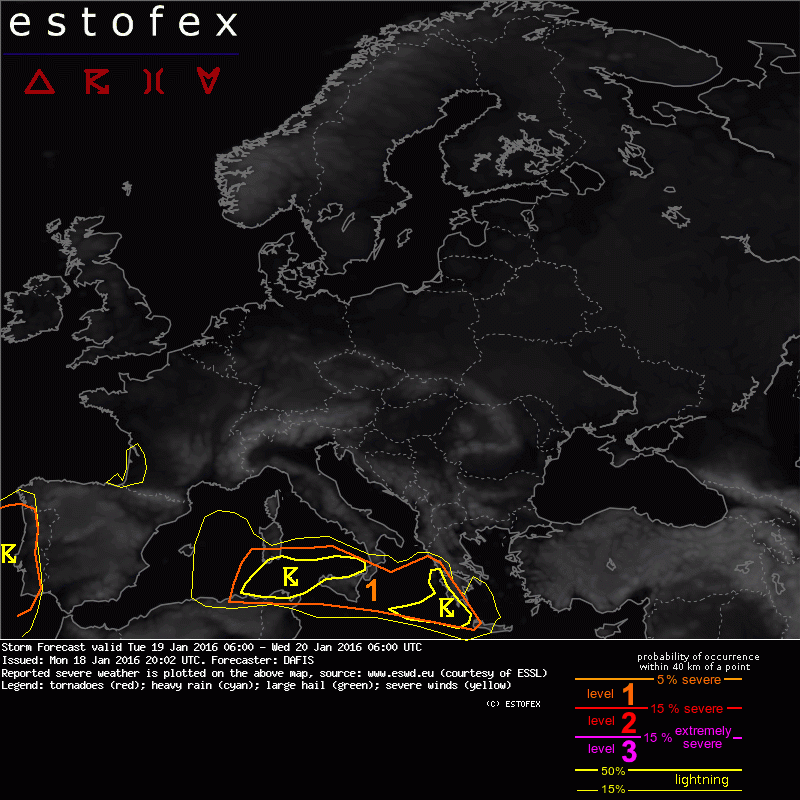 Storm Forecast
Valid: Tue 19 Jan 2016 06:00 to Wed 20 Jan 2016 06:00 UTC
Issued: Mon 18 Jan 2016 20:02
Forecaster: DAFIS
A level 1 was issued for parts of Italy, Algeria, Tynisia and West Greece mainly for excessive rainfall, severe wind gusts, tornadoes and large hail.
A level 1 was issued for Portugal mainly for severe wind gusts and to a lesser extent large hail.

SYNOPSIS

The cold arctic blast that affects most of the European countries is moving eastward but several shortwave troughs at the western flanks of it, will continue to feed some convective phenomena during Tuesday. The longwave trough over the Balkans attains a progressively more negative tilt through the forecast. On the surface, the large anticyclone over central Europe will shift southeastward, giving its place to several cyclonic vortices. Excessive rainfall, gale forcing winds and large hail are expected around the Mediterranean countries. The cyclones of North Atlantic cannot reach the Iceland or the UK due to high geopotentials, but over NE Europe heavy snowfalls are expected.

DISCUSSION

.... parts of Italy, Algeria, Tynisia and West Greece ....
Strong synoptic lift approaches the NW Mediterranean Sea, where a shortwave trough is expected to move quickly from France to south Italy during this forecast. On the surface a LL vortex has already formed at the Gulf of Lion and its cold front is approaching the island of Sardinia where most of the rainfall will be accumulated before 06z tomorrow but also during the morning of Tuesday the threat remains due to PW of 25-30 mm and MLCAPE of about 400 J/kg which will overlap with up to 20 m/s of DLS and more than 300 mē/sē of SREH0-3km. The best overlap of CAPE - shear will be over the sea but also 20 - 25 m/s of DLS is forecast near the coasts of Algeria, Tynisia and Sicily where some strong thunderstorms can produce large hail and severe wind gusts under the mid-level jet streak (35 m/s at 500 hPa). Over the night the vortex will move SW of Greece and a vorticity maxima is forecast over the islands of Ionian Sea. There is still a difference between GFS and ECMWF about how deep will the cyclone be until 06z on Wednesday but the current thinking is that due to abundant forcing and strong inflow of moisture from SE (mixing ratios 8 - 9 g/kg in the BL is located over the south Mediterranean), excessive rainfall, severe wind gusts and large hail (or large amounts of small hail) are possible at the Ionian islands and the West coast of Greece (over continental parts strong inversions will suppress any convection). Moreover, some waterspouts or tornadoes cannot be ruled out since 0-1km shear is forecast to exceed the 10 m/s with SREH0-1km up to 300 mē/sē near the coasts.

.... Portugal ....
Another shortwave trough, with a large vorticity lobe, will approach the coasts of Portugal during the afternoon of Tuesday, favoring synoptic lift. Strong baroclinicity will result in strong to gale non-convective wind gusts but also mid-level steep lapse rates and moist BL will form some hundreds of CAPE, so CI should start until 21z. Within these storm cells, severe wind gusts are possible due to a 850 hPa jet streak. Furthermore, some large hail events are possible at the coasts of Portugal as some CAPE overlaps with 20 - 25 m/s of DLS.