Storm Forecast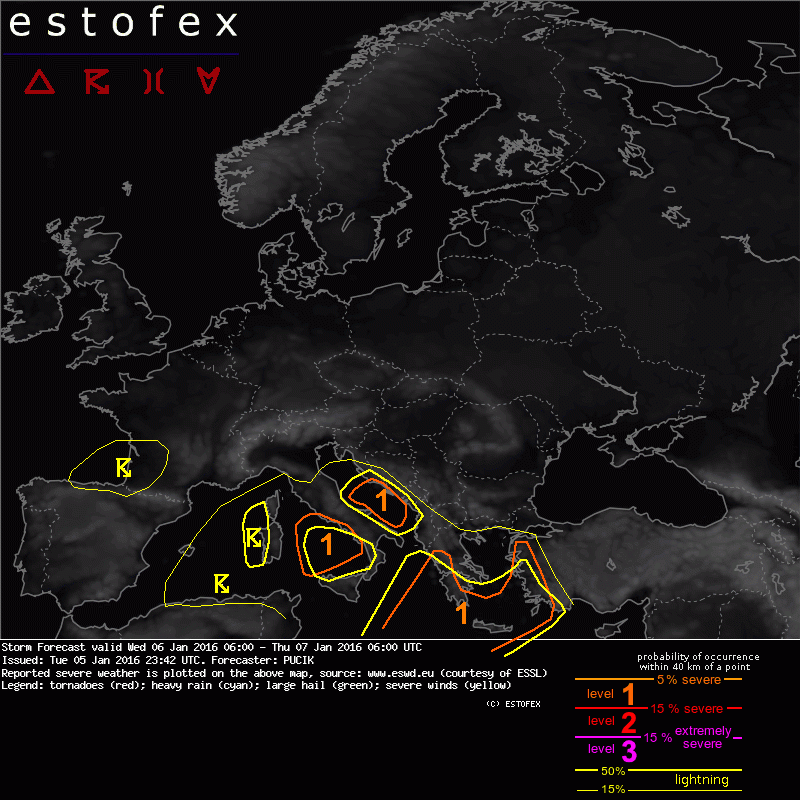 Storm Forecast
Valid: Wed 06 Jan 2016 06:00 to Thu 07 Jan 2016 06:00 UTC
Issued: Tue 05 Jan 2016 23:42
Forecaster: PUCIK
A level 1 was issued for parts of the Tyrrhenian and Adriatic Sea mainly for severe wind gusts and marginally large hail.

A level 1 was issued for parts of the Ionian and Aegean Sea, W Greece, W Turkey mainly for excessive precipitation and to the lesser extent for marginally large hail, tornadoes and severe wind gusts.


SYNOPSIS and DISCUSSION

Satellite loops reveal a deep trough located over France, Iberia and the Balearic Sea, progressing ESE-wards. This trough is filled with cold airmass at mid-troposphere and rather steep lapse rates (around 7 K/km), which have been sampled by e.g. Brest or Bordeaux Tuesday 12 UTC soundings. Plume of steeper lapse rates along with the trough will translate over the Mediterranean area with attendant isolated to scattered DMC activity. Several Lvl 1s are introduced for the region, where strong DLS will overlap with marginal instability. Low topped supercells are possible with threats of severe wind gusts and/or marginally large hail. In case of the Aegean Sea, especially W/SW Turkey, strengthening low-level jet (as surface low deepens) may elevate excessive precipitation and tornado risks.