Storm Forecast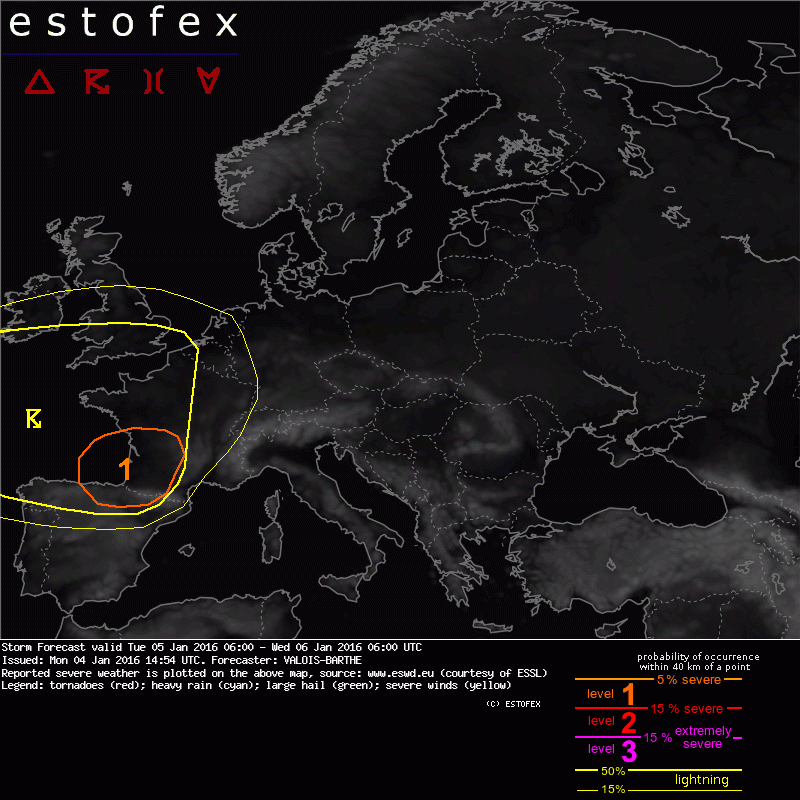 Storm Forecast
Valid: Tue 05 Jan 2016 06:00 to Wed 06 Jan 2016 06:00 UTC
Issued: Mon 04 Jan 2016 14:54
Forecaster: VALOIS-BARTHE
...Forecast and Discussion...

A level 1 is proposed on Southwest of France, for severe gusts and isolated tornado.

A powerful and dynamic cold drop concerns France. Instability is clearly reinforced this Tuesday 05th January, from Aquitaine to Poitou-Charentes especially, with an enough important MUCAPE, at 150-400kg/J usually, but with peaks at 700-800kg/J on Atlantic coasts and Channel coasts. Uprising indices are well lowered, with a MULI often near to 0K, but until -1K /-2K, loc.-3K, on Channel shores and from Basque Country to Vendee.

Winds shear 0-6km are >15-20m/s on Southwest of France, but low and discreet, even null elsewhere. SREH 0-3km remains fairly weak and disparate during the day, with <120m2/s2 values on Channel coasts and Center-West of France.

However, from the beginning of evening to end of night, SREH 0-3km values increases on Southwest, and reach >300-400m2/s2. Consequently, a risk of severe convective gusts, LT-supercells and an isolated tornado is very likely over the area placed in level 1.

Thunderstorms are well present on many regions, often moderates, and risk seems also strong enough on North-West of France. It doesn't deserve a level 1 but a strong thunderstorm stays possible.

Brief but strong showers, sometimes a moderate electrical activity, little hail (2cm) and gusts up to 70-80km/h, 90-100km/h, loc. 110km/h punctually, and a low tornado (F0-F1) under the most vigorous squall lines on Atlantic coast. This stormy risk persists on South-West of France, decreasing gradually, until Wednesday 06th January, end of morning.