Storm Forecast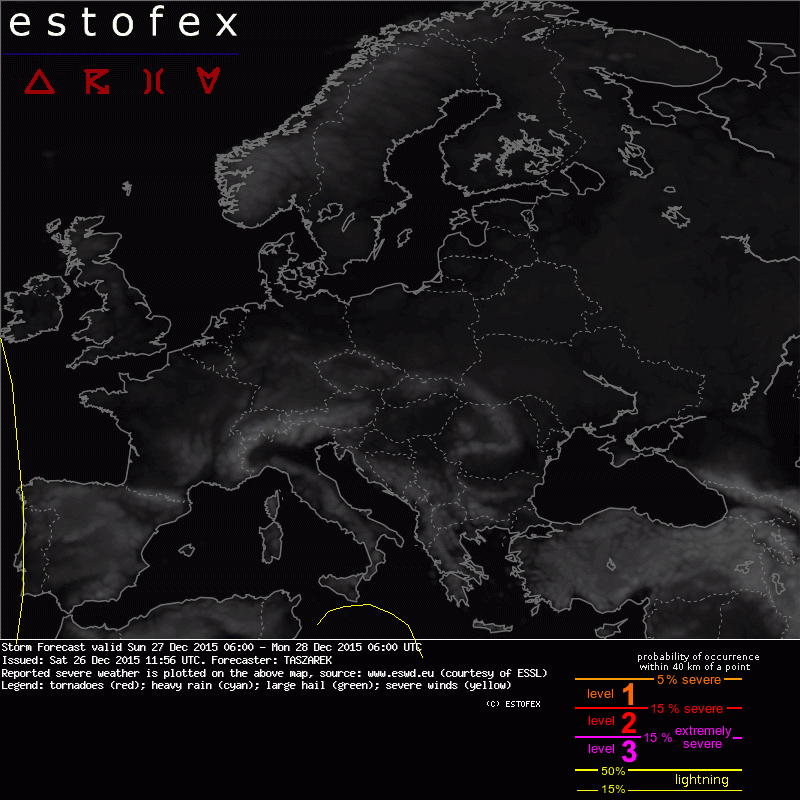 Storm Forecast
Valid: Sun 27 Dec 2015 06:00 to Mon 28 Dec 2015 06:00 UTC
Issued: Sat 26 Dec 2015 11:56
Forecaster: TASZAREK
No threat levels have been issued.

SYNOPSIS and DISCUSSION

An extensive high with a lack of thermodynamic instability inhibits convective activity in the most of the Mediterranean area except a minor cold drop south of Sicily where an isolated weak thunderstorms are likely. A jet stream bordering cold and warm air masses stretches from Atlantic through British Isles, Baltic Sea and W Russia. A minor shortwave is forecast to pass through the Baltic Sea and Poland but almost absent thermodynamic instability will inhibit any organized convective activity. A long and extensive geopotential wave over the Atlantic moves eastward and in the end of a forecast period will be placed west of Iberian Peninsula and British Isles. Within this system, some isolated lightning activity is possible in the warm section of the trough and along the cold frontal over the marine areas. No severe convective storms are expected in the European domain.