Storm Forecast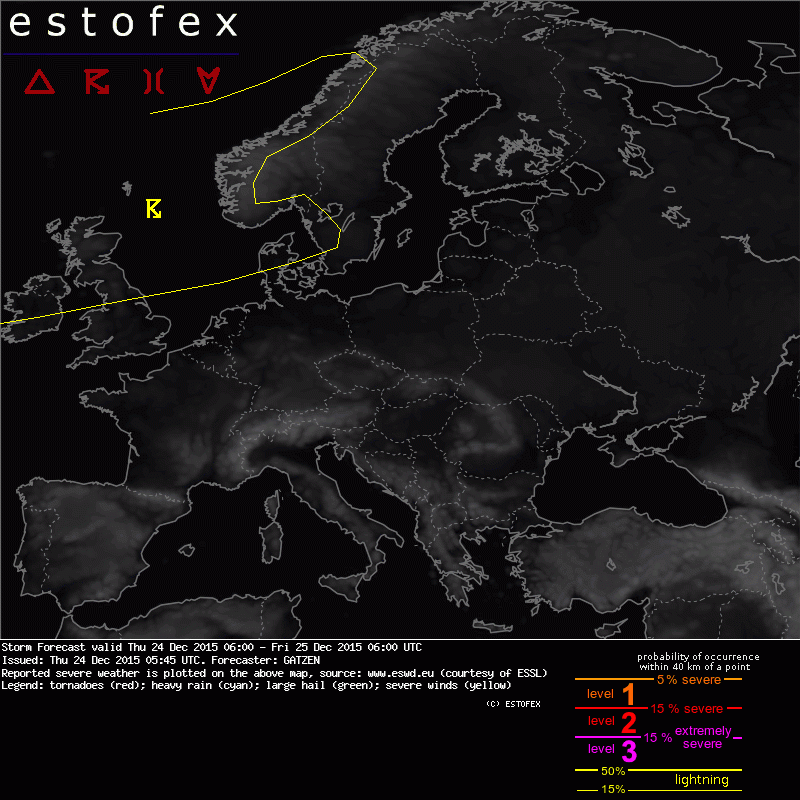 Storm Forecast
Valid: Thu 24 Dec 2015 06:00 to Fri 25 Dec 2015 06:00 UTC
Issued: Thu 24 Dec 2015 05:45
Forecaster: GATZEN
SYNOPSIS / DISCUSSION

Two intense troughs travel rapidly across northern Europe. The eastern one is already leaving the forecast region while digging into southern Russia. Over NW Europe, a second trough has just entered Ireland accompagnied by a well-developed vort-max. It will cross the North Sea until Friday morning when it is expected over central Scandinavia. Between both features, a sharp ridge will amplify into northern Scandinavia. Over southern and central Europe, ridging will continue except for a cut-off low moving from central Italy to the Balkans.

Thunderstorm potential is pretty low over most regions. A strong mid-level inversion affects the Mediterranean even near the center of the cut-off low. Near the frontal zone, a moist maritime air mass continues to advect into western Europe and further east. Soundings indicate steep lapse rates at low levels that result in weak CAPE especially near the coasts, but mid-level inversions are associated with warm EL temperatures and chances of thunderstorms are low.

Further north-west, an active convective cold-season goes on across the British Isles, the North Sea, and western Scandinavia. Although subtropic moisture and steep lapse rates will be well separated, latest models indicate some overlap of moderate low-level moisture in the wake of a cold front with steep lapse rates near the trough's base. This overlap travels from northern Ireland to southern Scandinavia today. Thunderstorms have formed across northern Ireland close to the center of a frontal wave in the wake of a cold front. Current thinking is that this convective activity will spread east together with a well-developed mid-level vort-max / jet streak. This scenario is also supported by latest observations that indicate rich moisture with dewpoints around 6°C across the British Isles. These storms may be capable of producing severe wind gusts given the strong background flow of 25 m/s at 850 hPa. This is especially possible when linear elements can form later on. However, the overall potential is limited as low-level convergence is weak in the wake of the cold front.

Further north, thunderstorms have also formed near the center of an intense low pressure system located across the Faroe Islands. Moisture is wrapped around the low centre and overlaps with the rapidly eastward expanding lapse rates of the mid-level trough. While the trough moves east, the low-level low will also follow eastwards, reaching Scandinavia at the end of the period. Although low-level moisture is limited, and mid-level forcing weakens as the strong vort-max removes eastward, some thunderstorms may go on through-out the period. Severe wind gusts are likely but convective contribution is expected to be weak.