Storm Forecast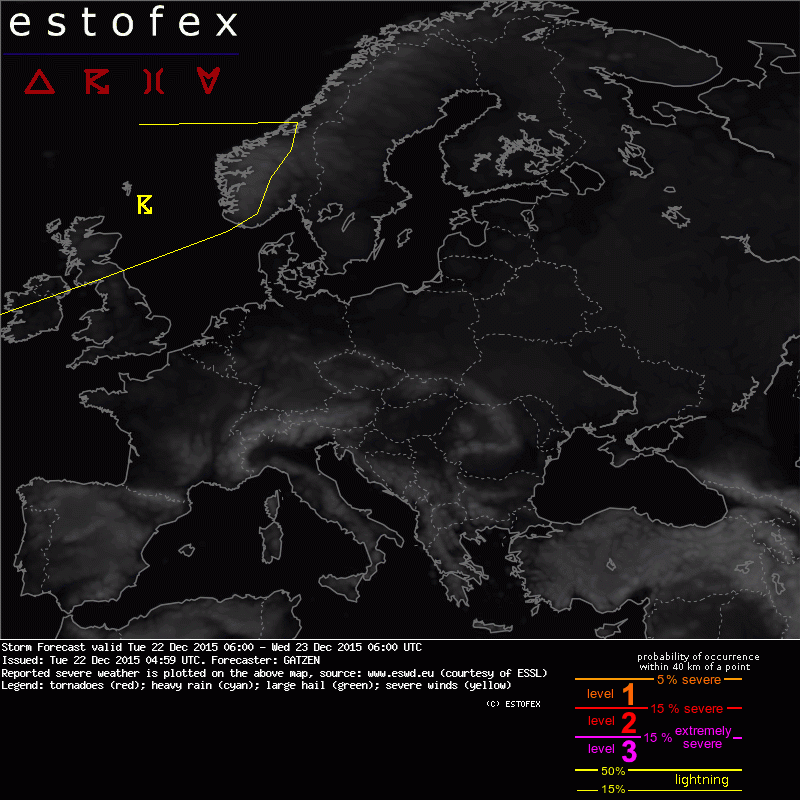 Storm Forecast
Valid: Tue 22 Dec 2015 06:00 to Wed 23 Dec 2015 06:00 UTC
Issued: Tue 22 Dec 2015 04:59
Forecaster: GATZEN
SYNOPSIS / DISCUSSION

Europe is still affected by long-wave ridging and a northerly frontal zone. With the strong mid-level flow, intense vort-maxima travel across northern Europe during the period. One vort-max is currently across Poland and will amplify into the Ukraine. Stretching of the low-level air mass resulted in steep lapse rates and thunderstorms have formed near the Baltic Sea where low-level moisture is present. As the trough approaches south-east, low-level moisture will be significantly lower, and thunderstorms are not expected any more.

The following, intense trough moves into central Scandinavia in the evening hours. Well-mixed and nearly saturated air masses will allow for some CAPE below the trough. Best potential of storms is forecast along the coastline of Norway, where upslope flow as associated with lift. Rather weak vertical wind shear near the trough axis is indicated by latest models and well-organized storms are not forecast. However, ongoing convective activity with a following vort-max can lead to excessive rain.

Thunderstorms are also expected over the northern British Isles due to a third vort-max late in the period. Limited moisture in a polar air mass will reduce the thunderstorm risk, though. In a strong flow, main threat will be severe wind gusts but the contribution of deep moist convection is expected to be weak given only marginal instability and low-level convergence.