Storm Forecast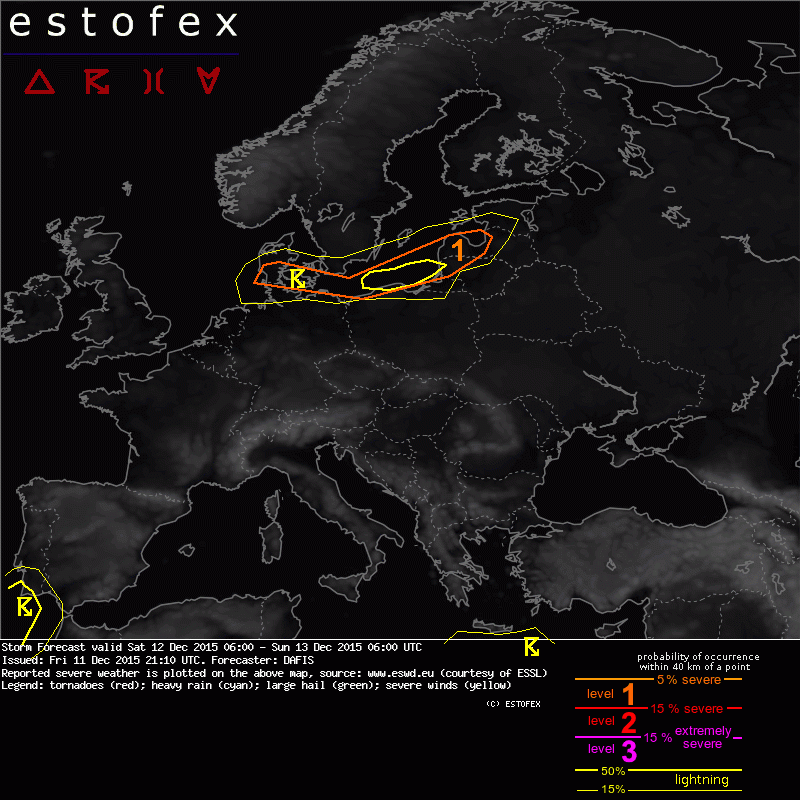 Storm Forecast
Valid: Sat 12 Dec 2015 06:00 to Sun 13 Dec 2015 06:00 UTC
Issued: Fri 11 Dec 2015 21:10
Forecaster: DAFIS
A level 1 was issued for parts of Denmark, S Baltic Sea, Poland, Lithuania and Latvia mainly for the severe wind gusts.

SYNOPSIS

A broad and strong high pressure system prevails over Europe, whilst low pressure systems in the north parts of the continent sustain a continuous zonal flow and embedded vorticity maxima affect several places. Another cold pool has formed over the Balkan States, where some instability due to steep lapse rates in mid-levels results in low-topped storms over the sea. In general, weak stratiform phenomena prevail.

DISCUSSION

During the early morning of Saturday, a shortwave trough passes over the level 1 area and CAPE along the wave's axis will be marginal (less than 300 J/k)but it lies at the left exit of a jet streak in the mid levels of about 40 m/s and 50 m/s in the upper troposphere. Despite the weak instability and weak wind shear, QG-lift may be able to assist some storms to become severe, with strong to severe wind gusts, especially at the coastal areas (850hPa winds exceed the 20 m/s). In the low levels a wave will gradually weakens over the Baltic States until 12 UTC. Another shortwave trough approaches Denmark during the night, where same threats are expected.

Isolated maritime thunderstorm activity is also forecast on the southwestern side of Iberian Peninsula where a favorable overlap of 7 °C/km lapse rates and moist boundary layer with mixing ratios of 9-10 g/kg will result in MLCAPE up to 500 J/kg. Same conditions are expected, but with less moist BL, in East Mediterranean Sea, just south of Crete, Greece.