Storm Forecast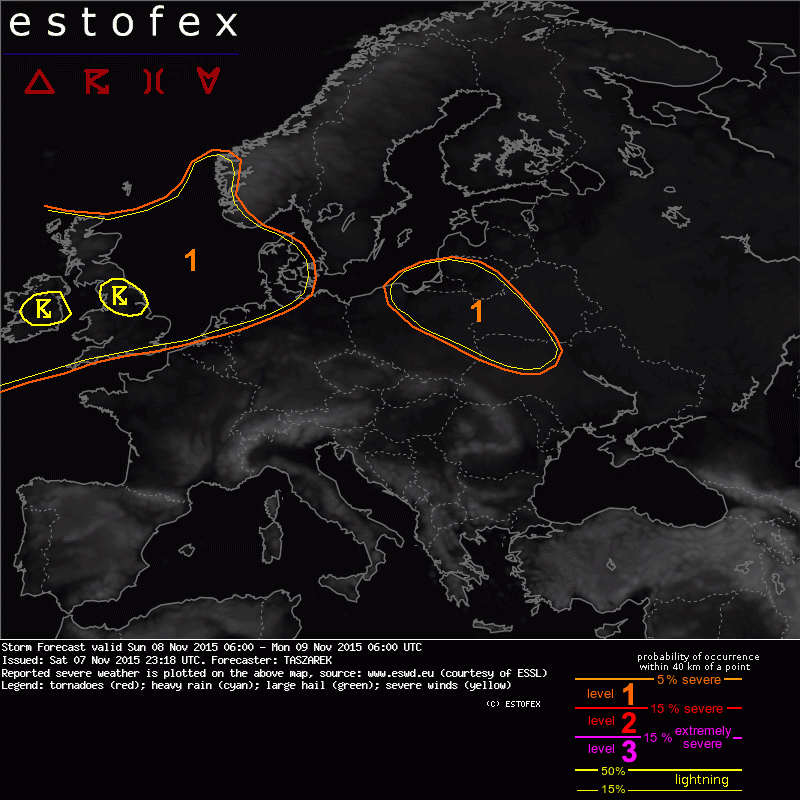 Storm Forecast
Valid: Sun 08 Nov 2015 06:00 to Mon 09 Nov 2015 06:00 UTC
Issued: Sat 07 Nov 2015 23:18
Forecaster: TASZAREK
A level 1 was issued for parts of NW Europe mainly for severe wind gusts and in lesser extent for the tornadoes.

A level 1 was issued for NE Poland, Lithuania, Kaliningrad Oblast, W Belarus and NW Ukraine mainly for the severe wind gusts and in lesser extent for the tornadoes.

SYNOPSIS

Most of the southern Europe (where thunderstorms are the most likely during this time of the year) stays under the extensive Azores High's ridge that inhibits convective activity. A tongue of warm and dry air from NW Africa (with 850 hPa temperature up to 15-17C) covers Iberian Peninsula and France and moves eastwardly during the forecast period providing warm and dry weather. Such a warm air mass causes a large horizontal thermal gradient between cold air over N Atlantic and results in a strong thermal wind (jet stream) that undulates over British Isles and Baltic Sea. Within these systems (troughs), a rapidly moving cold fronts are forecast to be capable of producing lightning and pose a threat for the severe wind gusts and tornadoes.

DISCUSSION

... NE Europe ...

A cyclonically curved jet streak within a northeasterly moving trough is forecast to pass British Isles and North Sea during the forecast period. Due to a strong pressure gradient a gale force winds enhanced by convective activity are expected. A rapidly moving cold front with impressive QG-lift will displace a southerly influxed warm air mass with a boundary layers mixing ratios up to 10-11 g/kg. Within these boundary a marginal CAPE up to 200-300 J/kg will be available. Although a free convective layer of ~ 3-4 km and warm cloud tops are expected to provide only marginal lightning activity, an impressive strong flow in a whole vertical profile (LLS ~ 15 m/s, MLS ~ 25 m/s, DLS ~ 35 m/s), a significant directional wind shear (0-1 km SRH ~ 400-600 m2/s2, 0-3 km SRH ~ 300-400 m2/s2) and linearly organized convection pose a threat for the severe wind gusts with a magnitude of 25-33 m/s. Within this environmental vertical wind profile and moist boundary layer resulting in a low LCL a tornado threat cannot be ruled out. The threat seems to be low due to linear convective mode and rather insufficient low-level instability. Nevertheless, the QLCS tornado type is possible. Large PW values exceeding 30mm are expected to provide a heavy rain. However, due to a high systems movement speed, an excessive precipitations are not likely. NWP models predicts that environmental conditions for the lightning occurrence (free convective layer, cloud top temperature, QG-lift and CI) will be the most promising over Ireland and northern England. The system should move eastwardly and reach Denmark during the end of the forecast period. A warm sector is forecast to reach SW coast of Norway where within an orographic lift thunderstorms with a severe wind gust threat are possible.

... NE Poland, Lithuania, Kaliningrad Oblast, W Belarus and NW Ukraine ...

A similar conditions with eastwardly moving convective line but slightly lower vertical wind shear values are forecast in the level 1 area. In the opposition to system over British Isles, convective cells over E Europe will be weakening during forecast period having their highest intensity over Poland in the early morning hours. A wind gusts along the cold front are expected to reach a magnitude of 25 - 33 m/s. A tornado threat due to a marginal low-level instability seems to be low but similar as in British Isles, a QLCS type cannot be ruled out. Severe convective weather threat should weaken in the afternoon hours when the system will move to Ukraine and vanish.