Storm Forecast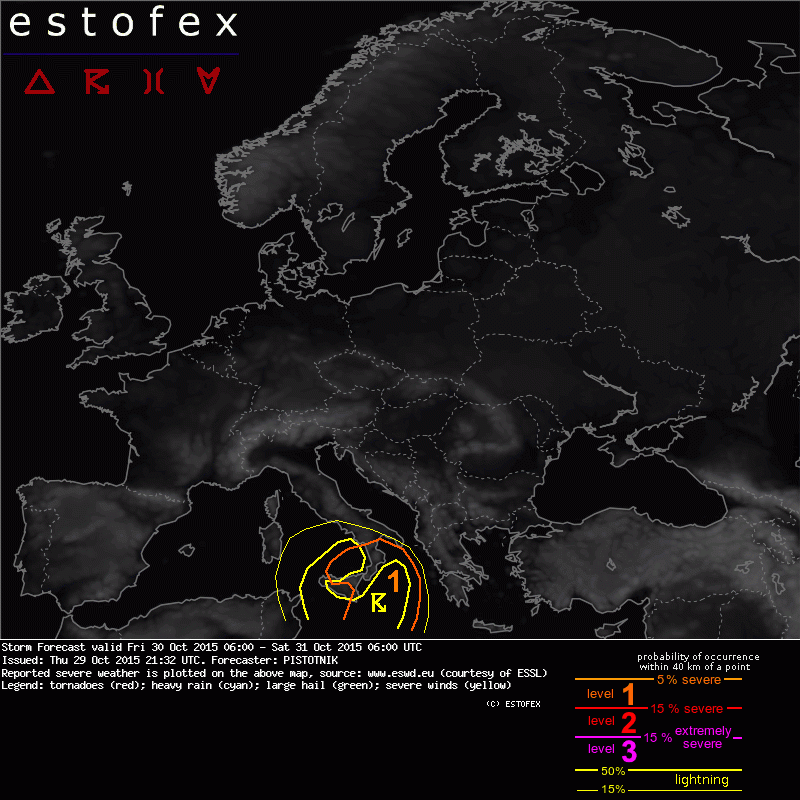 Storm Forecast
Valid: Fri 30 Oct 2015 06:00 to Sat 31 Oct 2015 06:00 UTC
Issued: Thu 29 Oct 2015 21:32
Forecaster: PISTOTNIK
A level 1 was issued for Malta, parts of Italy and the Ionian Sea mainly for excessive precipitation and for waterspouts.

SYNOPSIS and DISCUSSION

A large high pressure system builds over most of Europe, with a center over Germany at 500 hPa and over the Baltic States closer to the surface. Only NW Iberia, the British Isles and Norway are grazed by a strengthening SW-erly flow ahead of an Atlantic trough, which advects partly moist but stably stratified air.
Convection-wise, the only feature of interest is a small and stationary cut-off low over Sicily.

DISCUSSION

... S Italy, Malta, Ionian Sea ...

Cool air on top of the warm sea surface yields a few hundred J/kg of CAPE beneath the cut-off low. Heavy rain and embedded convection will be concentrated along a convergence zone, which curls around it over the Ionian Sea and impinges on the east-facing shores of the Basilicata and Calabria regions in S Italy. It is supported by geostrophic lift ahead of the upper-level low. Limited area models predict rainfall accumulations up to 100 mm and beyond during the forecast period. A level 1 is issued for a risk of flash floods, though the confidence in an involvement of thunderstorms is somewhat limited. Meager vertical wind shear and the embedded nature of storms (if any) should keep the risk of other severe weather phenomena low.
Scattered storms may also occur around Sicily and the Aeolian Islands. Isolated heavy rain and one or two waterspouts are possible, especially if land breeze fronts or other localized convergence zones form.