Storm Forecast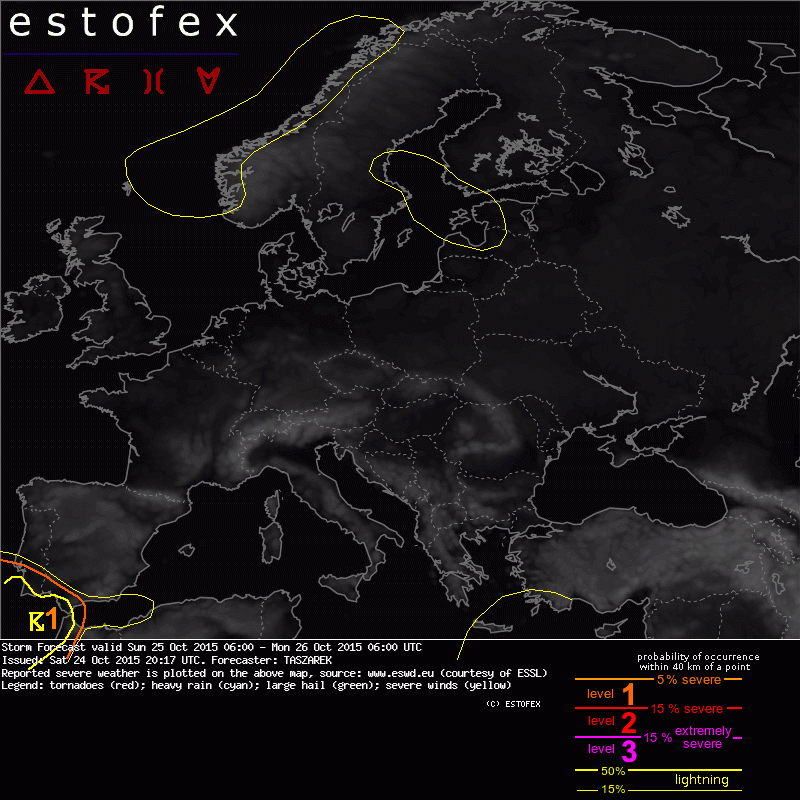 Storm Forecast
Valid: Sun 25 Oct 2015 06:00 to Mon 26 Oct 2015 06:00 UTC
Issued: Sat 24 Oct 2015 20:17
Forecaster: TASZAREK
A level 1 was issued for SW part of Iberian Peninsula and N Morocco mainly for excessive precipitation.

Waterspouts are possible along Norwegian coast and E Mediterranean.

SYNOPSIS

Deep low west of Ireland is moving southwardly and brings warm polar air masses into western Europe. Weakening "old" Azores high moves eastwardly into Central Europe and inhibits convection. Upper level wave moves during forecast period through Scandinavia, Baltic Sea and Baltic Countries providing QG-lift within marginally unstable air mass. Advection of steep lapse rates within cold air mass takes place over relatively warm waters along the Norwegian coast and Baltic Sea. Moist and unstable air mass is placed in the southeastern and southwestern edges of the forecast domain. Within these air masses and weakly sheared environment, single cell and multicellular thunderstorms are expected.

DISCUSSION

...SW part of Iberian Peninsula and N Morocco....

Boundary layer's mixing ratios exceeding 10 g/kg with moderate lapse rates (6.5 - 7 C/km) result in rather low CAPE values up to few hundreds J/kg. Given S moist low-level inflow relative to SW weak mid-level flow and PW values exceeding 30mm excessive precipitation and local flash flooding threat exist. In the late evening and nighttime hours an increased DLS up to 20 m/s with will be available over the Gibraltar and W Mediterranean. Given such environment, a severe wind gusts and large hail within supercell and multicell thunderstorms may be plausible. However, the threat due to marginal instability (mostly elevated) and questionable CI is marginal and no level threat is issued.

... Norwegian coast, E Mediterranean...

Given weak mid-level flow (~ 10 m/s), steep low-level lapse rates (9-10 C/km) over waters much warmer than inflowing air (Norwegian coast), 0-3 km CAPE ~ 150 J/kg and the presence of CI, waterspouts are possible. The highest chances are along the central Norwegian coast in the afternoon hours, Crete and SW part of the Turkey in the morning hours.