Storm Forecast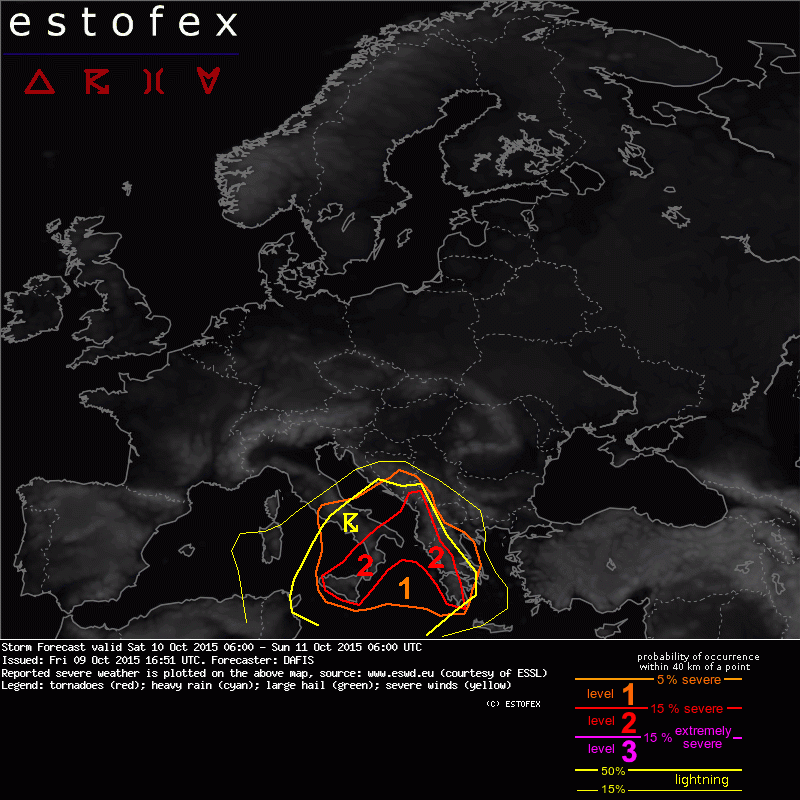 Storm Forecast
Valid: Sat 10 Oct 2015 06:00 to Sun 11 Oct 2015 06:00 UTC
Issued: Fri 09 Oct 2015 16:51
Forecaster: DAFIS
A level 2 was issued for South Italy mainly for excessive rain, large to very large hail, severe wind gusts and tornadoes.

A level 2 was issued for West Greece, Albania and Montenegro mainly for excessive rain, large to very large hail, severe wind gusts and tornadoes.

A level 1 was issued for Italy, S Croatia, Bosnia and Herzegovina, Montenegro, Albania and Greece mainly for excessive rainfall, large hail and severe wind gusts.

SYNOPSIS

The most continental parts of Europe are under the influence of a strong high pressure system with its center over Scandinavia which advects LL cold air masses from the NE. The large cyclonic vortex in NW Russia remains stationary during the forecast with a weakening trend. West from Portugal and Spain the Ex-Joaquin approaches and some heavy precipitation is forecast but gale force winds will be the main threat.

As far as Central Mediterranean is concerned, a trough coming from the West basin attains a progressively more negative tilt through the forecast which increases the already strong dynamics. Moreover a healthy vorticity lobe extends from South Italy to Greece with a strong impulse circling its base. Strong low tropospheric WAA will take place as the LL cyclonic vortex moves towards the Adriatic Sea with a massive load of African dust.

DISCUSSION

.... Italy ....

A cyclonic vortex is visible in the latest IR satellite images over the Tyrrhenian Sea and NWP models predict a quick movement towards Italy until Saturday 12z. This vortex will steer a plume of very unstable air masses with mixing ratios up to 18 g/kg towards Sicily and SE Italy with significant DMC initiation. 20-25 m/s DLS, 300mē/sē SREH0-3km and 2-3 kJ/kg MLCAPE result in organized DMC with large to very large hail, strong to severe wind gusts and excessive rain with a serious flash flood risk, especially for Sicily where PW is forecast to reach the 40 mm . Enhanced LL shear along the coastal areas is enough for a tornado threat.

.... West Greece, Albania and Montenegro ....

An outbreak of organized thunderstorm activity is forecast for the second half of Saturday at the eastern coasts of the Adriatic and Ionian Sea, where strong BL convergence will take place. As the LL vortex over Italy and the Adriatic Sea will remain stationary for a couple of hours, the leading edge of a warm front approaching from the SW will result in a strong moisture gradient towards the SW Balkans. Forward trajectories confirm an undisturbed inflow of very moist LL air masses with mixing ratios up to 20 g/kg in N Ionian Sea in combination with very steep mid-level lapse rates that will result in almost 4000 J/kg of MLCAPE. Moreover to the abundant synoptic lift, the upper-level jet configuration, the strong divergence atop, the overlap of 20-25 m/s DLS, 400-600 mē/sē SREH0-3km and the high CAPE values suggest a dangerous set up which favors strong, very well organized DMC, including long-lived supercells and large MCS all over the level 2 area. PW values reach the 40mm, so excessive rainfall with major flood risk is issued for Montenegro, W Albania and W Greece. Very large hail and severe downbursts are likely beside an excessive rainfall risk. Due to the high LLCAPE, very low LCL values, the forecast of 400 mē/sē of SREH0-1km and the LLS exceeding the 15 m/s, we expect tornado events and/or a waterspout outbreak in West Greece and Albania but also a significant tornado event cannot be excluded, especially in West Peloponnesus where forecast hodographs show a looped signature with 50 kt at 850 hPa.
A level 3 was considered for the aforementioned areas, but timing issues of DMC activity kept this event in an high-end level 2.

For the rest areas of level 1, the highest risk of severe weather will develop along the coastline of South Italy especially in the morning and early evening hours as low level shear exceeds 10 m/s and SREH reaches more than 300 mē/sē. The most prominent threat will be excessive precipitation, given the very high moisture content in the atmosphere and also some large hail events at the southern parts. Later on, during the night hours and early morning of Sunday, the threat shifts NE towards Bosnia Herzegovina and Montenegro, as the plume of unstable air lifts north/northeast where one or two MCS will produce severe weather such as excessive rainfall (if locked to the orography, locally very high rainfall amounts could induce flash flooding) and severe wind gusts. The severe weather phenomena will continue during Sunday over Greece.