Storm Forecast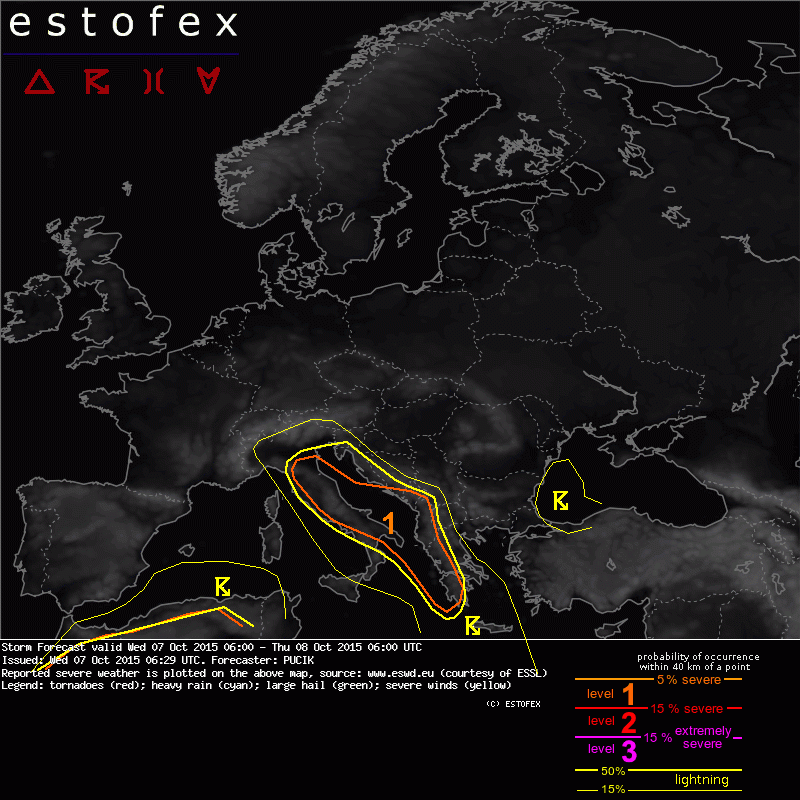 Storm Forecast
Valid: Wed 07 Oct 2015 06:00 to Thu 08 Oct 2015 06:00 UTC
Issued: Wed 07 Oct 2015 06:29
Forecaster: PUCIK
A level 1 was issued for parts of Italy, the Adriatic Sea towards the E Ionian Sea coastline mainly for excessive precipitation and to the lesser degree for large hail.

A level 1 was issued for parts of N Africa mainly for large hail and severe wind gusts.


SYNOPSIS

At the mid to upper troposphere, a short-wave trough is moving across Italy eastwards, apparent at the satellite loops and already accompanied by scattered tstm activity. It is connected to a larger scale trough over the Atlantic. Another deep trough is located over W Russia, filled with arctic airmass and rather steep lapse rates. Abundant DMC is expected in this region, but due to the very poor low-level moisture, lightning should be very sparse. Most of tstm activity will be concentrated in the Mediterranean Sea, where abundant low-level moisture is present and over parts of N Africa, where the low-level moisture is advected.

DISCUSSION

... Italy towards E Ionian Sea coastline ...

As the short-wave passes over the region, scattered to widespread tstm activity is forecast. Without the presence of steep mid-level lapse rates, low to moderate CAPE values and skinny CAPE profiles are forecast. 00 UTC soundings from the region show moist conditions with low LCLs, suggestive of a potential for excessive rainfall. DLS will be rather low over most of the region, apart for the southern part, over the Ionian Sea, where DLS may exceed 20 m/s, supporting well organised DMC. Still, the most prominent threat should stay in the form of excessive rainfall, but marginally large hail is not ruled out either.

... parts of N Africa ...

With moist on-shore flow, steep lapse rates over the region should contribute to the moderate CAPE values. In high LCL environment and rather strong DLS under 20 m/s of flow at 700 and 500 hPa, well organised multi and/or supercells will pose a risk of large hail and severe wind gusts. Risk of excessive precipitation will be lessened by fast cell movement.