Storm Forecast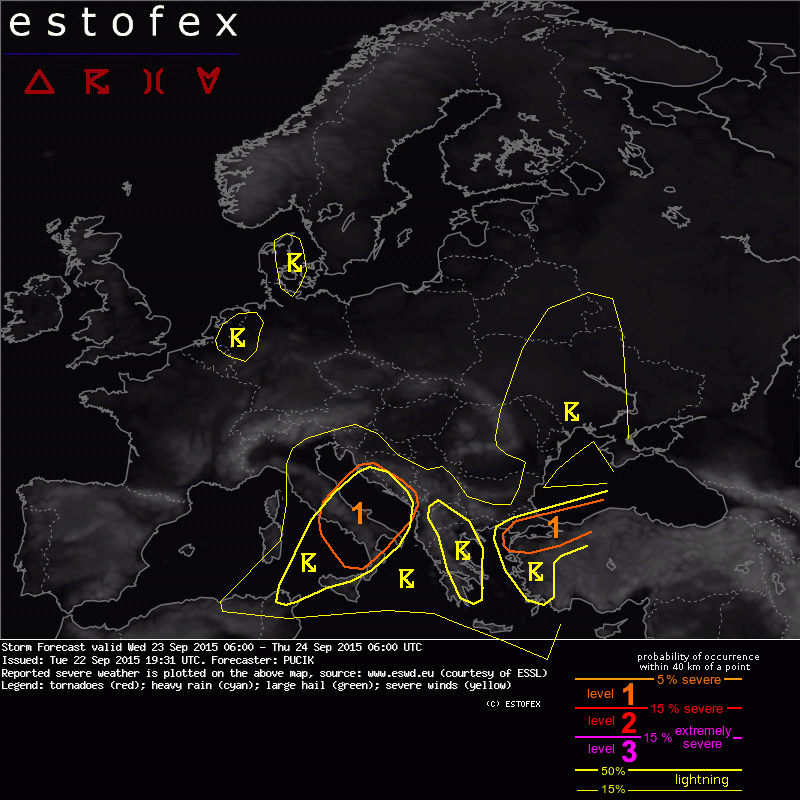 Storm Forecast
Valid: Wed 23 Sep 2015 06:00 to Thu 24 Sep 2015 06:00 UTC
Issued: Tue 22 Sep 2015 19:31
Forecaster: PUCIK
A level 1 was issued for Central, South Italy and parts of E Adriatic coastline mainly for excessive precipitation and to the lesser degree for marginally large hail and tornadoes.

A level 1 was issued for N Turkey mainly for excessive precipitation.

SYNOPSIS

Satellite loops show impressive cyclonic vortex making its way across N France and BENELUX towards SE. During Wednesday, it will split into two separate vortices - one of them will continue SEwards to the Tyrhennian Sea and another will continue to Denmark and NE Germany. At the same time, an ill-defined pool of lower geopotentials will persist over the Aegean Sea, which has been a focus for quite widespread DMC activity today. Two areas will become foci for tstm activity on Wednesday: Central Italy towards the E Adriatic coastline especially in the evening and night hours as cold front will make its away towards this region. Another area will be Greece and parts of the Black Sea coastline.

DISCUSSION

... Central - South Italy towards the E Adriatics ...

Surface observations show dewpoints around 18 deg C at the time of writing this forecast along the western Central - S Italy coastline. Across the E Adriatics coastline, dewpoint readings are generally less. As the upper trough approaches, cyclogenesis is forecast over the N Italy with a tongue of moister airmass reaching from the S Mediterranean towards the Italy and the Adriatics coastline. Lapse rates should not be particularly steep, so that CAPE values will be on the order of 500 - 1500 J/kg. Scattered to widespread DMC will be initiated along the convergence zone at / ahead of the cold front and generally ahead of the advancing trough. A narrow belt of DLS over 20 m/s is forecast over the Central - Southern Italy, decreasing towards northeast.

Primary threat will be excessive precipitation as cells redevelop along the convergence zones, where low level moisture is forecast to pool. However, as dry air rapidly advances across the sea, convergence zones are not forecast to stay focused at one location for numerous hours, thus reducing potential for extreme amounts of rain. Marginally severe hail may occur especially if brief supercells manage to form. This threat will be diminished by the lack of steep lapse rates and low LCLs. One or two tornadoes are not ruled out close to the Adriatic Sea as southerly flow increases at 850 hPa during the night. The highest threat of severe will be observed during the late evening and night hours.

... Greece, W Turkey and S Black Sea coastline ...

Scattered to widespread DMC is forecast across the region with initiation occuring especially inland or in the coastal areas. Best low-level moisture and CAPE values are forecast across the S Black Sea, where a Lvl 1 is introduced for a possibility of flash flooding with slowly moving thunderstorms. As DLS is generally under 10 m/s, heavy rain should stay the only risk. We refrain from Lvl 1 over Greece and Turkey due to the fact that CAPE values will be rather low and heavy rainfall threat seems less likely, but one or two events are not ruled out. Waterspouts may also occur with storms developing over the coastal convergence zones.