Storm Forecast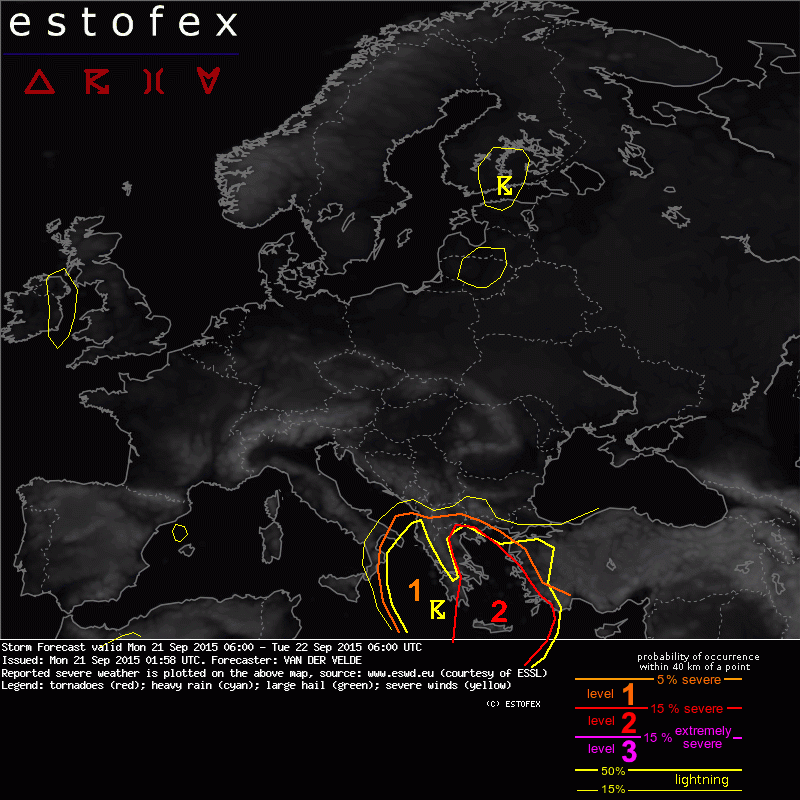 Storm Forecast
Valid: Mon 21 Sep 2015 06:00 to Tue 22 Sep 2015 06:00 UTC
Issued: Mon 21 Sep 2015 01:58
Forecaster: VAN DER VELDE
A level 2 was issued for eastern Greece mainly for the chance of excessive convective precipitation.
A level 2 was issued for Crete, Aegean Sea and southwestern Turkey for the chances of large hail, tornadoes, excessive convective precipitation, and severe wind gusts.
A level 1 was issued for western Greece and Ionian Sea for chances of tornadoes and excessive convective precipitation.

SYNOPSIS

A ridge over the European mainland separates depressions over Iceland/British Isles and Scandinavia/Baltics from a vigorous low over the Ionean Sea affecting mainly Albania, Greece and western Turkey with thunderstorms and heavy rain.
A mid level cold front slowly moves eastward across Greece and will arrive in Turkey by late evening. The warm airmass east of the front features steep mid level lapse rates in which MLCAPE of 2000 J/kg is calculated by various models.

DISCUSSION

GFS and ECMWF focus the postfrontal airmass storms in a band through the centrral Ionian Sea, west of the center of the surface low. The other precipitation maximum is over central Greece and east coast. Here, upslope flow of moist unstable air toward the low supports continual development of deep convection which can produce tens of mm up to 250 mm. Along the west of Greece the large sums will likely be more isolated, with enhanced chances of waterspout type tornadoes along the SW coast given the vortical environment, slow storm motion and weak shear.
Stronger shear of 15-20 m/s over 0-6 km combines with a CAPE maximum south of Crete. 0-3 km SREH is predicted by GFS to reach 250 mē/sē from 12-18Z for the front over Crete and eastern Aegean, and increases at night again south of Turkey. The chance of supercells is significant, which may cluster with multicells into an MCS. Large hail and excessive precipitation are likely. Conditions for tornadoes are also favorable given the low LCLs and 10 m/s 0-1 km shear increasing to 15 m/s at night (over sea east of Crete).
Severe convective wind gusts are also plausible due to low level winds over 20 m/s and delta-theta-e reaching 20 degrees especially over Crete and eastwards.