Storm Forecast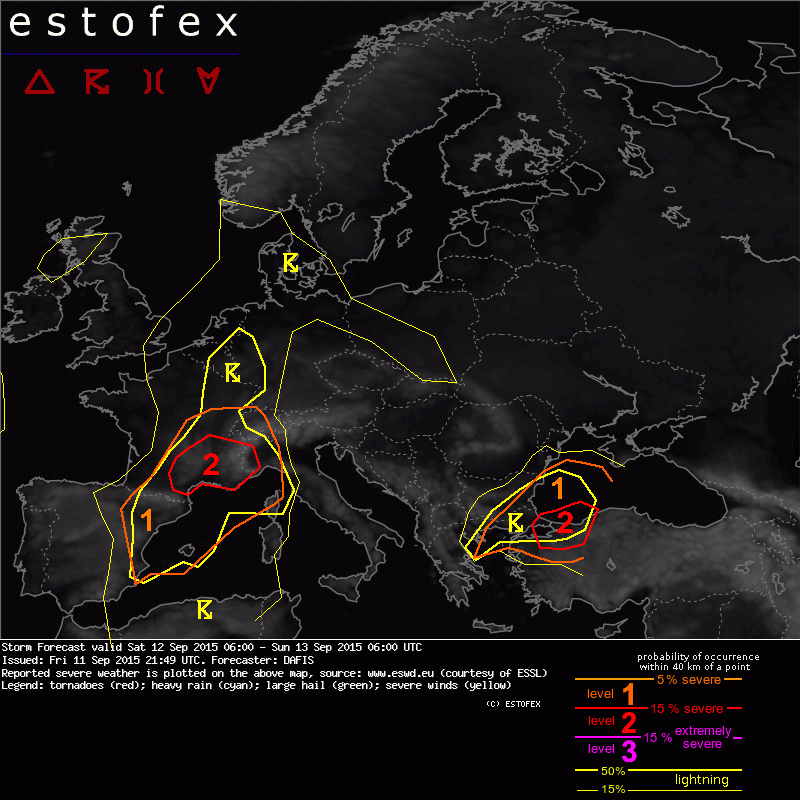 Storm Forecast
Valid: Sat 12 Sep 2015 06:00 to Sun 13 Sep 2015 06:00 UTC
Issued: Fri 11 Sep 2015 21:49
Forecaster: DAFIS
A level 2 was issued for France and parts of NW Italy mainly for excessive rain, severe wind gusts and tornadoes.

A level 1 was issued for Spain, France, Switzerland and parts of NW Italy and surrounds the level 2 area for the same threats with less coverage but also large hail in NE Spain.

A level 2 was issued for parts of NW Turkey mainly for excessive rain and tornadoes.

A level 1 was issued for parts of Turkey, Greece and Bulgaria mainly for excessive rain and tornadoes.

SYNOPSIS

The predominant vortex over NW-Europe shifts northward, stepping aside for another cyclonic vortex, which approaches from the Atlantic Ocean. A strengthening depression from the Bay of Biscay gets incorporated into the circulation of the second vortex and the net result will be a major cyclonic vortex, centered over UK, which becomes the steering mechanism for quite some time.
A shortwave trough in the Balkans moves quickly eastward during the forecast period and will affect North Turkey with some DMC, discussed more in detail below.

DISCUSSION

.... Spain, France, Switzerland and NW Italy ....

High level cold advection, strongly sheared environment and a (sub)-tropical low level air mass in West Mediterranean will result in DMC. The first half of Saturday scattered convective cells are forecast for NE Spain and France with some of the most organized cells as the time passes by, becoming severe with large hail and causing severe wind gusts, especially in Spain where high LCLs are forecast. At the other parts of level 1, some thunderstorms may produce microbursts. MLCAPE is expected to exceed the 1200J/kg near the coasts along with 20m/s of DLS.
After 18z dangerous conditions set up in southern France where one or two MCSs or a supercell will form with excessive rain being the main threat near Massif Central mountains. Very humid air masses (mixing ratio >15g/kg) move onshore and result in high MLCAPE values with DLS exceeding the 20m/s. Moreover, rotation of these features will be pronounced as SREH 0-3km calculated by NWP models, will be in the range of 200-400mē/sē. The aforementioned areas are expected to receive even up to 200mm of rain in 24h so flash floods are certain. Low LCL heights with strong low level shear can help tornadogenesis (mostly waterspouts) and are found mostly over eastern Iberia, south coast of France and NW Italy. The DMC will shift towards Italy until the early morning of Sunday.

.... Turkey, Greece and Bulgaria ....

An active severe weather day is forecast mainly for Turkey as very humid and warm air masses from the Black Sea are advected onshore. A vorticity lobe at mid-levels crosses the area from west to east and moves in this unstable (MLCAPE ~2kJ/kg) and strongly sheared air mass (DLS 20m/s). Furthermore, steep lapse rates will enhance the convective activity until noon around the Sea of Marmara and the Black Sea. Main threat is excessive rain as the convection will be orographically enhanced and strong SREH will sustain well organized cells. Several convergence zones in the NE Aegean Sea and at the aforementioned areas will be prone to waterspout occurrence as LLS will be more than 10m/s with low LCL heights.