Storm Forecast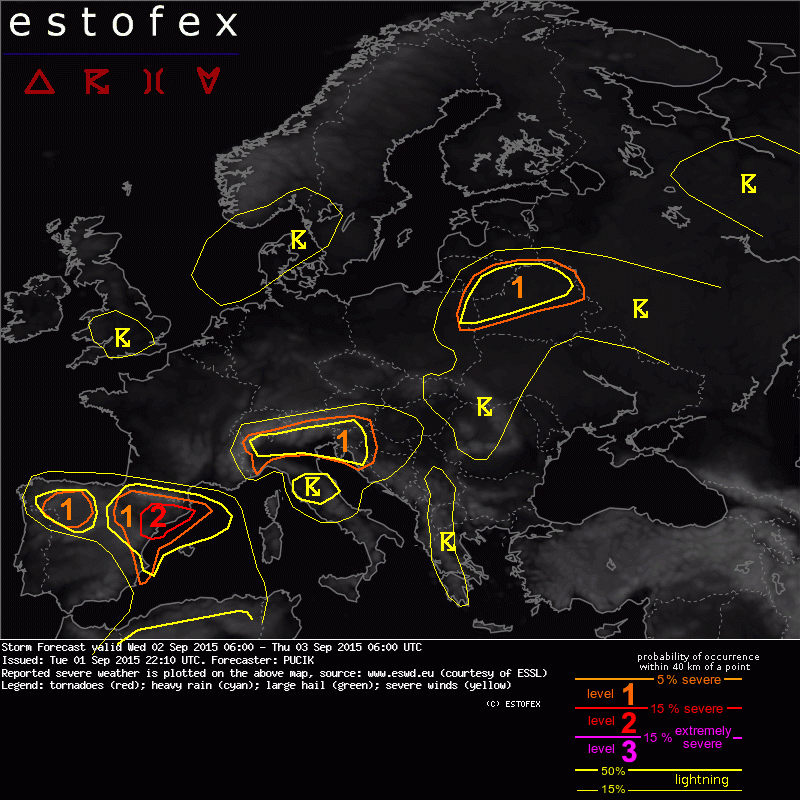 Storm Forecast
Valid: Wed 02 Sep 2015 06:00 to Thu 03 Sep 2015 06:00 UTC
Issued: Tue 01 Sep 2015 22:10
Forecaster: PUCIK
A level 2 was issued for NE Spain mainly for excessive precipitation, large hail and to the lesser degree for severe wind gusts.

A level 1 was issued for N and E Spain mainly for large hail, severe wind gusts and excessive precipitation.

A level 1 was issued for N Italy and N Adriatics mainly for excessive precipitation, large hail and to the lesser degree for severe wind gusts.

A level 1 was issued for E Lithuania and NE Belarus mainly for severe wind gusts and to the lesser degree for marginally large hail.

SYNOPSIS

The main feature will be rather quasistationary, large cyclonic vortex centered over S Norway. A short-wave trough at its southern base si forecast to cross Iberia during the Wednesday evening. Towards east, a ridge will stretch from Turkey towards Ukraine and the Baltic states. In between,in prevailing westerly to southwesterly flow, a cold front will cross Poland, continuing eastward while its southern part will become ill defined upon impinging on the Alpine and Carpathian ridge. Most of the DMC activity will be concentrated south or east of the cold front where moister airmass is observed - three notable regions will be N, NE Iberia, N Italy and N Adriatics and Belarus. These areas will be discussed in more detail below.

DISCUSSION

... E / NE / N Iberia ...

Ahead of the advancing short-wave, pressure is forecast to drop inland, enhancing moist easterly onshore flow. At the same time, mid-tropospheric flow will reach around 15 - 20 m/s, resulting in DLS between 20 and 30 m/s. Such values are very well conducive to well organised DMC, including supercells.
NWP does not predict significant overlap of abundant low-level moisture and steep lapse rates and thus CAPE values will likely not exceed 1000 J/kg except for the narrow coastal zones where dewpoints around 20 deg C are forecast. Storms may already be ongoing in the beggining of the period but the most widespread initiation is forecast in the evening hours associated with the short-wave trough approach. Some of the models show MCS development over NE Spain which will move offshore towards the morning hours.

Large hail and excessive precipitation seem to be the major threats, albeit probability of very large hail will be decreased by the lack of steep lapse rates. Severe wind gusts will be more likely inland with higher LCLs and deeper boundary layer. Situation is borderlining Lvl 1 / Lvl 2, with the most questionable factor being presence of MCS with enhanced excessive precip threat. Decided to go for a low-end Lvl 2 for the region with the expected highest coverage of severe.

... N Italy, N Adriatics ...

Surface observations show dewpoints over 20 deg C near the coastline, decreasing towards the Alps. Despite the lack of steep lapse rates, CAPE values between 500 - 1000 J/kg are forecast over the region, perhaps even higher near the coastline. DLS around 15 m/s is suggestive of well organised multicells or even perhaps several short-lived supercells. Scattered to widespread initiation is forecast with the greatest threats being large hail and excessive precipitation. Wind gust threat will be reduced by the lack of stronger flow in the lower troposphere, but isolated downbursts in the stronger cells can not be ruled out. The highest threat is forecast near N Adriatics coastline in the late afternoon to evening hours.

... E Lithuania, NW Belarus ...

Along the advancing cold-front, a convective line may be ongoing already in the morning over Poland, moving towards Belarus. In the environment of modest CAPE and moderate vertical wind shear, isolated severe weather is possible with well organised multicells. Degree of initiation is questionable in this situation with much disagreement between NWP especially regarding the southernmost extent of the initiation. Most probable threats will be isolated downbursts and marginally large hail.