Storm Forecast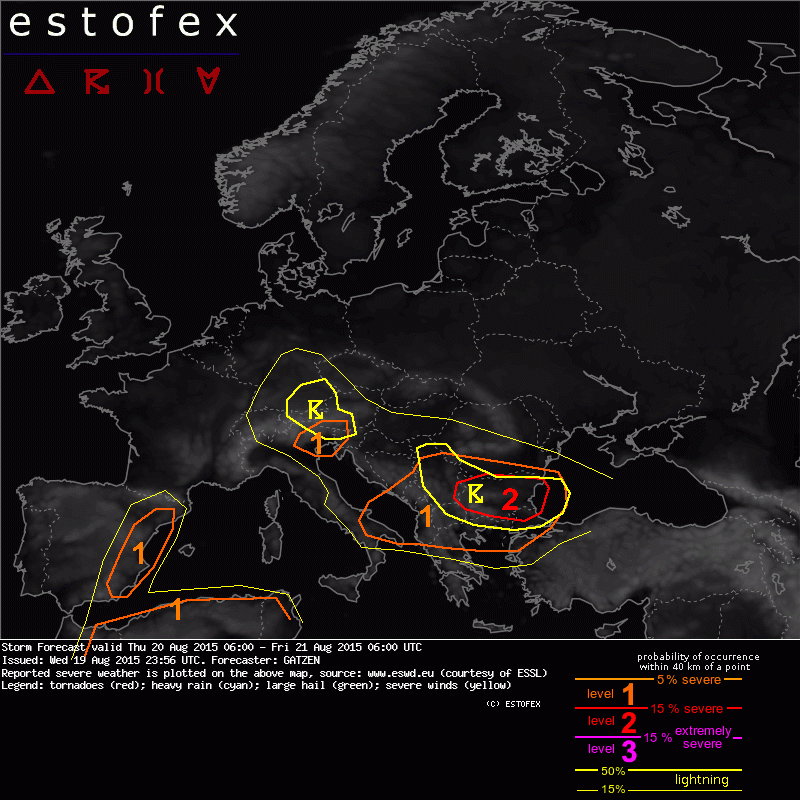 Storm Forecast
Valid: Thu 20 Aug 2015 06:00 to Fri 21 Aug 2015 06:00 UTC
Issued: Wed 19 Aug 2015 23:56
Forecaster: GATZEN
A level 2 was issued for Bulgaria mainly or large hail and excessive precipitation and to a lesser extend tornadoes.

A level 1 was issued or the southern Adriatic to the western Black Sea region inclusing the northern Aegean region mainly or large hail and excessive precipitation.

A level 1 was issued or eastern Spain mainly or large hail.

A level 1 was issued or northern Morocco, northern Algeria, and northern Tunisia mainly or large hail.

A level 1 was issued for the northern Adriatic mainly or large hail and excessive precipitation.

SYNOPSIS

Scandinavian blocking affects most of Europe. A region with low geopotential stretches from the North Sea across central Europe and the Balkans to the Ukraine and south-western Russia. Around the north-European ridge, rather cool and dry air spreads into Central Europe and further into the west and central Mediterranean.

Rich moisture is pushed into the east Mediterranean and accumulates east of Spain. CAPE builds over eastern Spain where diurnal steepening lapse rates can overlap with this moisture. Another region with CAPE is the Balkans given low geopotential and cold mid-levels overlapping with remaining moisture. Upslope flow of Mediterranean air also enables storms over northern Africa.

DISCUSSION

Southern Adriatic to Bulgaria region

A trough moves eastward across the southern Balkans. It is associated with a mid-level jet streak that spreads from the southern Adriatic to Bulgaria during the day. At lower levels, warm air advection is forecast ahead of the trough. Although lapse rates are quite weak, some steepening can be expected as the trough approaches and diurnal heating occurs. These lapse rates will overlap with rich moisture that advects from the Black Sea with easterly surface winds. Latest GFS expects CAPE near 1000 J/kg.

Given the favourable synoptic-scale lift, weak CIN, and moist profiles, widespread showers and thunderstorms are forecast in the morning hours. Due to steepening lapse rates and deeper instability, thunderstorm activity is expected to increase during the day. Best potential for organized storms is across Bulgaria where 20 m/s deep layer vertical wind shear supports multicells and supercells. Large hail is possible. Over eastern Bulgaria and surroundings, stronger low-level vertical wind shear can lead to tornadic storms, especially along sea-breeze convergences. Large hail and tornadoes are also not ruled out across the northern Aegean region. Excessive rain is also not ruled out.

Further north and west, weaker wind shear is expected, but slow moving storms may pose a threat o excessive precipitation.

Storms are forecast to spread into the northern Aegean and western Black Sea region late in the period, where clusters of storms can go on during the night hours. Excessive rain is expected to be the main threat.

Eastern Spain and northern Morocco, Algeria, Tunisia

Rather strong westerly winds are expected due to the southern jet stream during the period. Diurnal upslope low of Mediterranean moisture and diurnally driven lapse rates that overlap with the moisture can lead to CAPE. Isolated thunderstorms are forecast over the mountains during the afternoon hours. Given low-level upslope flow and rather strong westerly winds at mid-levels, rather strong vertical wind shear can evolve, exceeding 15 to 20 m/s in the lowest 6 km. Supercells are forecast capable o producing large or very large hail. Severe wind gusts are not ruled out. Overall potential is weak and initiation is not clear given weak QG support and some capping. Storms are forecast to decay during the night hours.

Northern Adriatic and Alpine region

A trough moves across the Alpine region on Thursday. Main focus organized storms will be the southern Alpine region where rather warm low levels will allow for steep lapse rates that overlap with rich low-level moisture. Multicells can produce locally large hail. Main threat will be excessive rain when storms merge to clusters in the evening and night hours, spreading into the northern Adriatic region.

To the north of the Alps, diurnally driven storms can produve waterspouts in a weakly sheared, moist environment.