Storm Forecast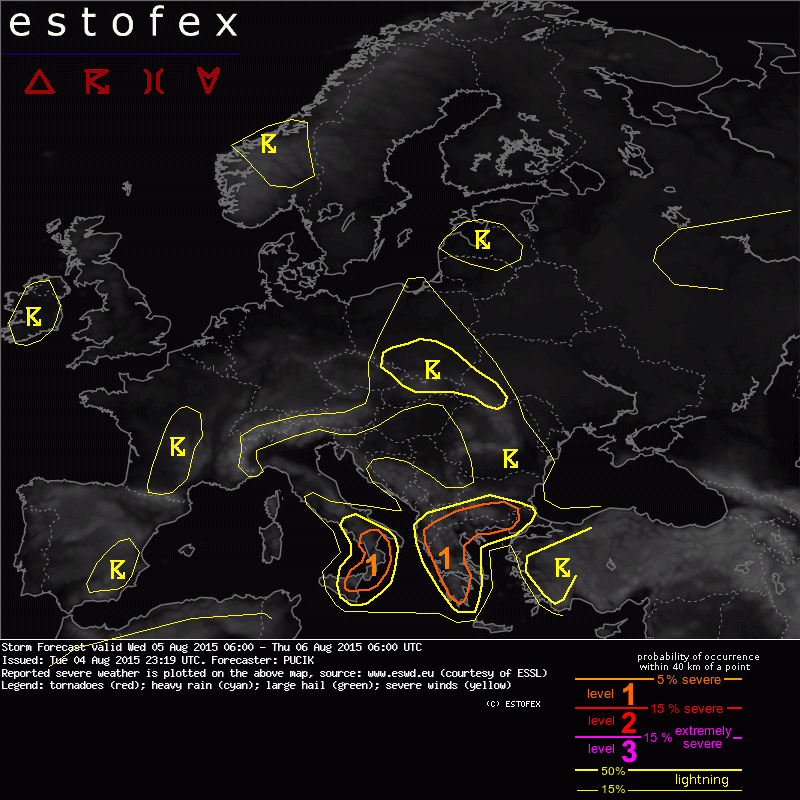 Storm Forecast
Valid: Wed 05 Aug 2015 06:00 to Thu 06 Aug 2015 06:00 UTC
Issued: Tue 04 Aug 2015 23:19
Forecaster: PUCIK
A level 1 was issued for S Italy, Greece, FYROM, S Albania, S Bulgaria mainly for excessive precipitation, local downbursts and marginally large hail.

SYNOPSIS and DISCUSSION

Relatively straight forward synoptic situation dominates Europe with a cyclonic vortex over the Atlantic and a ridge covering most of Europe with WAA regime. Shallow cut-offs will be located over SE Poland / E Slovakia and over Greece / Ionian Sea. Most widespread tstm activity is forecast with these cut-offs. However, in the weak shear regime, thunderstorms will be mostly disorganised, limiting the severe threat. Level 1 is introduced for S Italy and Greece where dew points well above 20 deg C near the coastlines may contribute to moderate to high MLCAPE. Marginally severe hail, high rainfall rates and local downbursts will be possible with stronger cells. Some isolated heavy rainfall events are not ruled out over N Slovakia or S Poland, but expected coverage does not warrant a Lvl 1.