Storm Forecast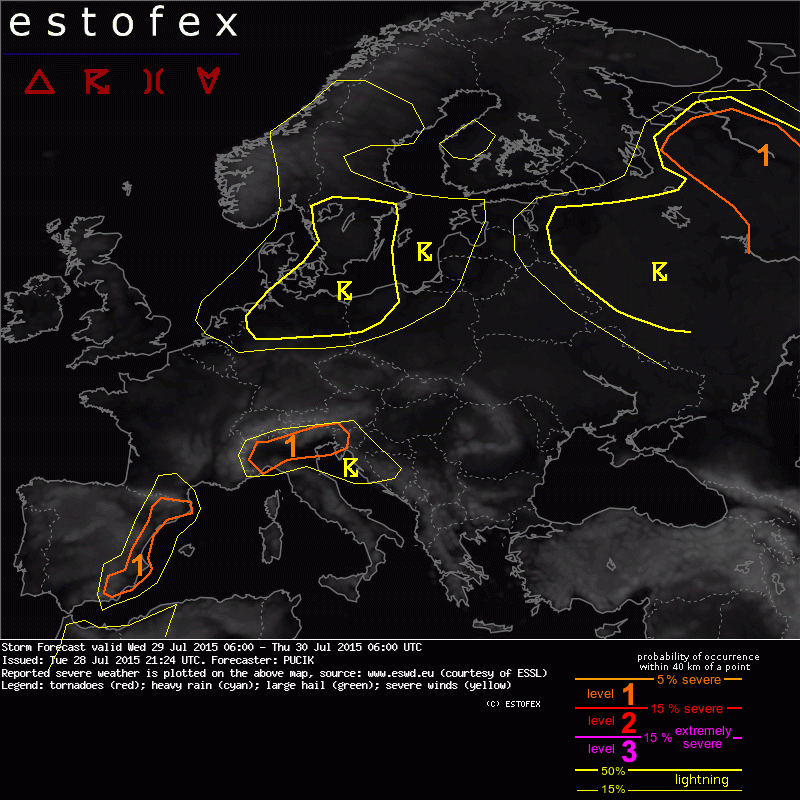 Storm Forecast
Valid: Wed 29 Jul 2015 06:00 to Thu 30 Jul 2015 06:00 UTC
Issued: Tue 28 Jul 2015 21:24
Forecaster: PUCIK
A level 1 was issued for E Spain mainly for large hail and severe wind gusts.

A level 1 was issued for N Italy mainly for large hail and severe wind gusts.

A level 1 was issued for NW Russia mainly for large hail and severe wind gusts.


SYNOPSIS

A broad belt of strong zonal flow is forecast across much of W and Central Europe in between of a ridge over the S Meditteranean and a cyclonic vortex, which will be centered over Denmark as of Wednesday 12 UTC. A trough is forecast to translate across NW Russia, partly connected to the cyclonic vortex. Closer to the surface, an ill-defined frontal boundary will be running from S France through Alpine region, Hungary towards Ukraine and Russia.


DISCUSSION

... Extreme E Spain ...

Westerly flow will advect EML over the moist boundary layer around the coastline and over the sea, yielding moderate to high CAPE values. At the same time, around 20 m/s of 500 hPa flow will likely result in moderate to strong DLS values, promoting favourable storm organisation including supercells. Due to the very hot airmass around 850 hPa layer, it is likely that boundary layer will be strongly capped. Nevertheless, near the elevated areas and towards the evening and night as subtle short-wave approaches, isolated DMC is possible, with threats of large hail and severe wind gusts.

... N Italy ...

Marginal to moderate CAPE is forecast over N Italy, but without the presence of steep lapse rates, which will likely limit the threat of very large hail. Under the strong zonal flow, DLS over 20 m/s is forecast, values which are already conducive for supercells. NWP suggests isolated convective initiation. In case that supercells form, isolated large hail and severe wind gust threat will be present, warranting a Lvl 1. Lack of steeper lapse rates and more widespread initiation precludes Lvl 2.

... N Germany, NW Poland ...

Under the cool mid-tropospheric temperatures, lapse rates will become steep enough to support a few hundreds J/kg of MLCAPE. Strong flow at mid to upper troposphere will overlap only very marginally with CAPE over W Poland. At lower troposphere, 15 to 20 m/s of flow at 850 hPa is forecast, slightly increasing towards the evening, when LLS around 10 m/s is anticipated. Lack of supercell organisation will likely prevent significant tornado threat, but a few wind gust events btw 20 - 25 m/s are possible. At the moment, Lvl 1 does not seem to be warranted.

... NW Russia ...

An overlap of moderate CAPE and moderate wind shear will probably support a few severe storms over the area. As the shear is mostly confined to the lower troposphere, multicell over supercell organisation will be preferred. A few large hail and severe wind gust events will be likely with stronger multicells.