Storm Forecast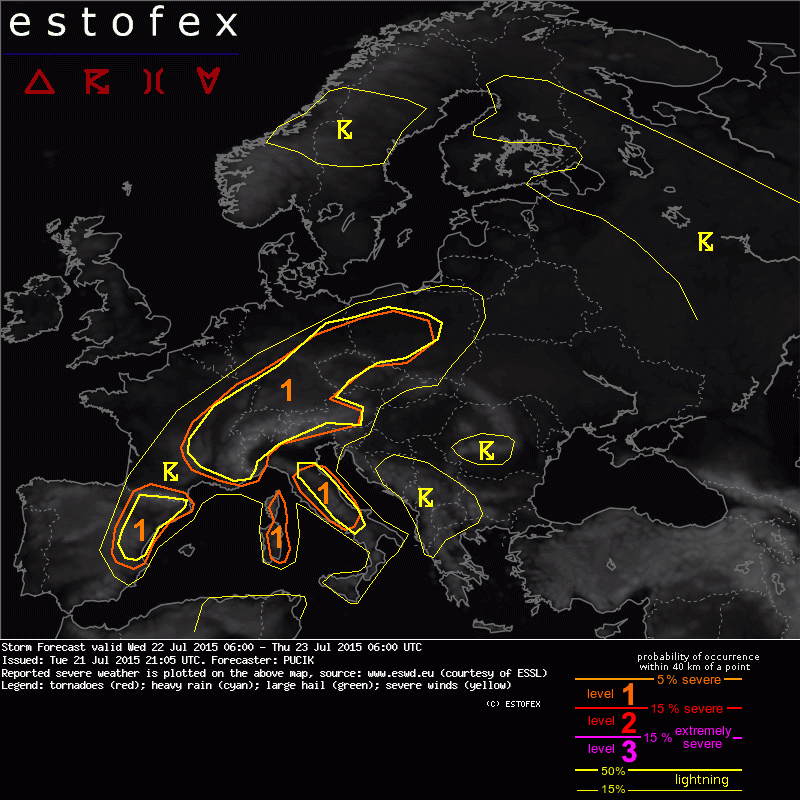 Storm Forecast
Valid: Wed 22 Jul 2015 06:00 to Thu 23 Jul 2015 06:00 UTC
Issued: Tue 21 Jul 2015 21:05
Forecaster: PUCIK
A level 1 was issued for N and E Spain mainly for large hail and severe wind gusts.

A level 1 was issued for a broad belt from SE France through Switzerland, S Germany, W Czech Republic into SW Poland mainly for large hail, severe wind gusts and excessive precipitation.

A level 1 was issued for Sardegna, Corsica and Central Italy mainly for large hail and severe wind gusts.

SYNOPSIS

A belt of strong zonal flow stretching from Atlantic through N Germany and N Poland towards the Baltic States denotes the northern extent of the lower tropospheric boundary separating hot tropical from cooler polar airmass. Thunderstorms will likely form along a slowly advancing cold front, where moderate instability is simulated thanks to the richer low-level moisture.

DISCUSSION

... N / E Spain ...

Tuesday 12 UTC soundings from Barcelona and Zaragoza reveal steep lapse rates are present over the area. Despite the rather weak vertical wind shear, moderate CAPE values with steep lapse rates and high LCLs will promote the risk of large hail and downbursts with any stronger cell that develops. The most likely convective mode will be multicell clusters, which will form along the mountains.

... SE France towards Germany, Switzerland, W Austria, W Czech Republic and SW Poland ...

Along and just ahead of the cold front, models simulate low to moderate MLCAPE values with GFS, as usual, being the most aggressive one. Degree of CAPE values will be limited by the fact that best low-level moisture should not favourably overlap with 7-7.5 K/km mid-tropospheric lapse rates, which will be more displaced towards the warm sector. Southern part of the Lvl 1, namely SE France, S Germany will be under weak shear regime with DLS values around or below 10 m/s with primary convective mode multicell clusters. DLS will increase towards north and may reach values around 20 m/s over Central, NE Germany and SW Poland. Here, well organised multi or supercells will be favoured. Even considered a Lvl 2 for this area, but besides GFS, other models simulate CAPE values below 1000 J/kg.

Scattered to widespread CI is forecast along the front, with chances decreasing quickly towards the east, where hot airmass (T850 over 20 deg C) and lack of forcing may shut down initiation until the storms approach from the more favourable regions. Models generally agree on the CI spreading from SW to NE, but exact timing is different model to model. Nevertheless, isolated severe convection is forecast, with primary threats of large hail and severe wind gusts. Especially along the mountains, clustering of cells may result in excessive precipitation event. During the night, it seems that a cluster of storms will move across Poland towards NE with threats of marginally large hail and/or excessive precipitation.


... Sardegna, Corsica, Central Italy ...

With subtle cut-off to the west of the area, thinking is that a few pulse storms may develop over the Appenines despite the presence of extremely hot airmass that will likely cap the boundary layer. Even with weak vertical wind shear, such pulse storms may be capable of large hail and/or downbursts.