Storm Forecast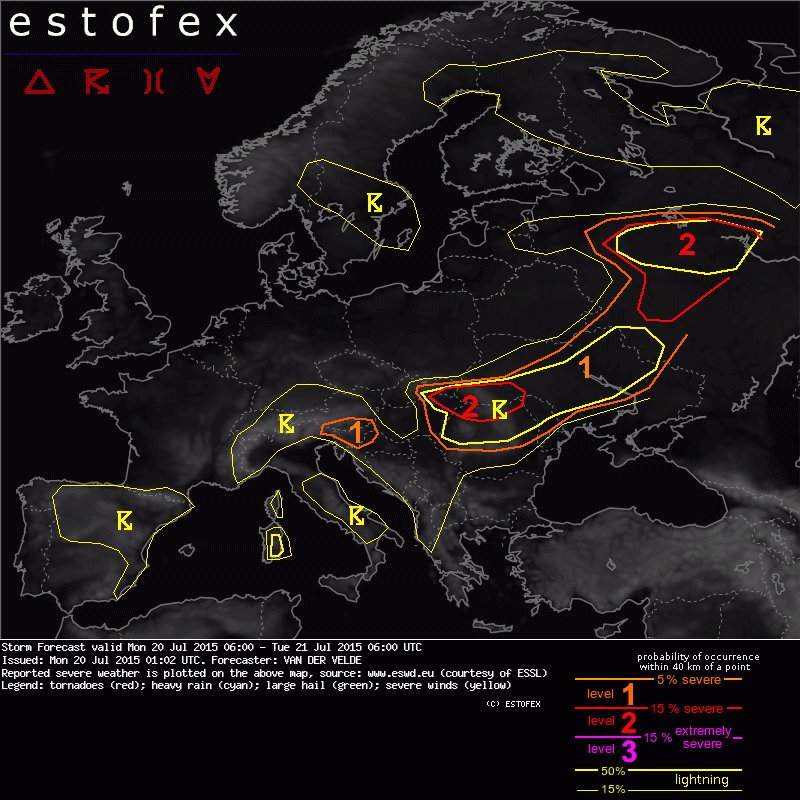 Storm Forecast
Valid: Mon 20 Jul 2015 06:00 to Tue 21 Jul 2015 06:00 UTC
Issued: Mon 20 Jul 2015 01:02
Forecaster: VAN DER VELDE
A level 2 was issued for western Russia mainly for severe convective wind gusts, large hail and tornadoes.

A level2 was issued for N Romania, E Hungary, SW Ukraine mainly for large hail.

A level 1 was issued for S Austria, Slovenia, E Hngary, Slovakia, N Romania and Ukraine mainly for karge hail.

SYNOPSIS

A low pressure system moves from Belarus into Russia. Its frontal system is well-developed with a sharp cold front extending across Ukraine to Hungary with 500-1500 J/kg weakly capped MLCAPE and a warm front extending east from Latvia into Russia with 0-3 km SREH of 200-400 m²/s³ jointly with CAPE: Strong low/mid-level winds of 20 m/s are predicted in the area northeast of Ukraine.

DISCUSSION

...western Russia area...

The ample CAPE and strong low level flow in the warm sector and the cold front support widespead severe wind gusts. Bow echoes are likely with 0-1 km shear upwards of 12 m/s, which is also favorable for tornadoes with a preference for the warm front/occlusion where SREH is maximized. However as upper/deep layer shear is somewhat lacking (10 m/s) and the forcing is linear, isolated supercells are less likely than a linear mesoscale convective system (squall line).

...N Romania, E Hungary, SW Ukraine...

This area is under enhanced deep layer shear with 10-20 m/s 0-6 km vectors and weaker forcing, dominant storm mode can become supercellular. With high LCLs > 2000 m these are likely to produce large hail and severe wind gusts. As SREH is relatively lacking the split-cell mode may be favored.

... Scandinavia, N Russia...

Slow cell motion and humid conditions are favorable for land/waterspout tornadoes or funnels.