Storm Forecast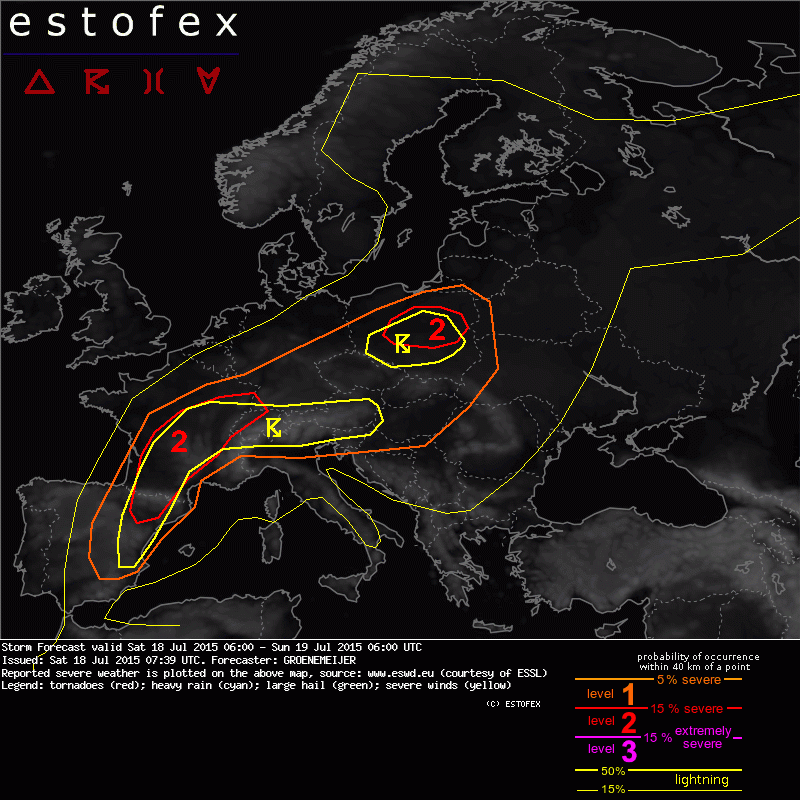 Storm Forecast
Valid: Sat 18 Jul 2015 06:00 to Sun 19 Jul 2015 06:00 UTC
Issued: Sat 18 Jul 2015 07:39
Forecaster: GROENEMEIJER
A level 2 was issued across southern and central France and northern Spain for large hail, severe wind gusts and to a lesser extent for extreme precipitation.

A level 2 was issued across central and eastern Poland for large hail, severe wind gusts and to a lesser extent for extreme precipitation.

A level 1 was issued across a large area of Europe stretching from the Iberian Peninsula across France and the Alps to the eastern north-European Plain, the western Carpathians and the Pannonian Plain. It is issued mainly for large hail and localized severe wind gusts and very heavy precipitation.

SYNOPSIS

An elevated mixed layer with attendant steep lapse rates covers continental Europe roughly to the southwest of a line from Gdansk to Bordeaux to Lisbon. On the northwestern fringe, a southwesterly jet a present. Slight height falls are expected over much of this area, i.e. a large scale trough approaches. A tendency for upward motion will expecially be present ahead of a vorticity maximum located over Spain and ahead of a shortwave trough that approaches France from the west during the evening. In addition, an upper-level shortwave trough initially over the southern North Sea will move quickly eastward across Denmark and the southern Baltic Sea during the evening.

DISCUSSION

Spain and France...

Surface analysis shows that rather abundant moisture is available across northern Spain and southern France with dew point temperatures in the 18-21 C range. This humidity and the fairly steep mid-level lapse rates should allow 1000-2000 J/kg MLCAPE to form in response to solar heating.

An MCS is ongoing over far SW France and N Spain as of 07 UTC. It seems likely that this activity will move northeastward and produce severe weather across the northern part of the level 2 area in the afternoon.

More storms will likely form across northern and northeastern Spain and may form ahead of the MCS as well. Given that deep-layer shear is in the 15-25 m/s range, the convection modes will include supercells with a risk of large or very large hail.

N Switzerland, Germany, Czech and Slovak Republics...

Low-level humidity appears to be rather scarce to the north of the Alps. Across Germany, scattered storms will nevertheless develop since up to 1000-1500 J/kg of CAPE should be able to form in the presence of rather steep lapse rates. Given 15-20 J/kg of deep-layer shear, well-organized multicells and a few supercells may form. Large hail and wind gusts are the main threat. A large elevated MCS over far SW Germany, W Switzerland and E France at 7 UTC will impede insolation in that area, limiting the risk of new surface-based storms in that area. Overnight, MCS's may move into this area from the SW.

Central and eastern Alps, Pannonian Plain, NW Balkans...

To the south and east of the Alps moisture is rather abundant and sizeable CAPE will form there. It appears likely that storms will once again form over the Alps. Some risk is present that these storms will cluster and move off the mountains to the east and southeast yielding a risk of severe wind gusts and extreme precipitation. Convective initiation may also occur in the weakly sheared but very unstable air-mass to the south and east of the Alps. Multicell storms with large hail, severe wind gusts and very high rainfall may develop.

Poland...

Initially the air-mass acorss Poland will be capped, and only isolated elevated storms will occur. Upon approahc of the upper-level shortwave trough, mid-tropospheric temperatures are expected to cool and convection should break out by mid-afternoon along and ahead of a southeastward moving surface cold front from Gdansk to Dresden. CAPE will be rather low, around 1000 J/kg. Given that deep-layer shear is around 20 m/s, some storms will probably become severe with large hail and severe wind gusts possible.