Storm Forecast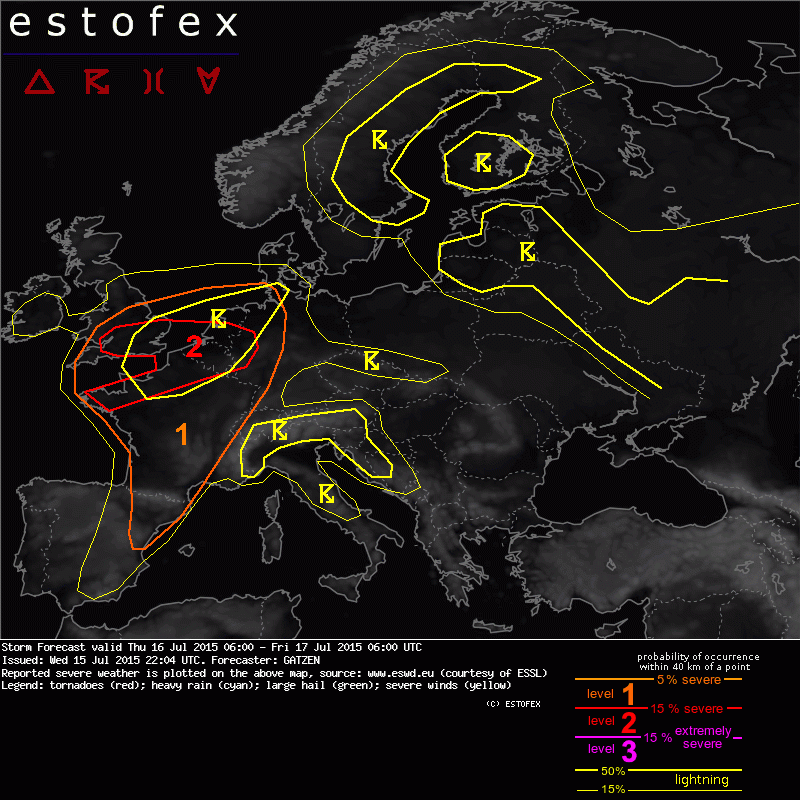 Storm Forecast
Valid: Thu 16 Jul 2015 06:00 to Fri 17 Jul 2015 06:00 UTC
Issued: Wed 15 Jul 2015 22:04
Forecaster: GATZEN
A level 2 was issued for parts of NW Germany, Benelux, N France, and S UK mainly for large hail, severe wind gusts, and to a lesser extend tornadoes and excessive precipitation.

A level 1 was issued for central and southern France, and NE Spain mainly for large hail and severe wind gusts.

SYNOPSIS

At the southern flank of low geopotential across Scandinavia and between Iceland and the British Isles, a rather zonal flow has advected moist air into Europe. Soundings from northern France/southern UK to western Germany indicate rich and deep moisture with surface dewpoints around 16°C. South of this frontal zone, a ridge is present, and steep lapse rates have spread from northern Africa into SW Europe.

On Thursday, the north-west European trough will move southward. Together with another low W of Iberia, it yields a south-westerly flow across western Europe. Advection of warm and well-mixed air masses is expected until the end of the period, when the axis of warm air will reach from central France to south-western Germany. Ahead of a cold front across the eastern UK and western France, a strong low-level jet will spread into the Benelux countries and NW Germany at the end of the period.

DISCUSSION

Southern/eastern UK into northern France, Benelux, and NW Germany

The warm air advection regime will see quickly improving lapse rates atop of a moist boundary layer from W Germany across Benelux into northern France and the southern UK. Given the rich low-level moisture, model CAPE values of 1000 J/kg MLCAPE seem to be reasonable during the afternoon and evening. Initiation becomes likely in the evening hours due to the approaching cold front and frontogenetical forcing. QG forcing will increase across the UK due to DCVA.

Storms are forecast to form across northern France in the late afternoon, spreading eastward into the Benelux in the evening. Additional storms may develop across southern and eastern UK. Due to the strong low-level jet, 15 m/s low-level vertical wind shear will be available, and storms can quickly become supercells, capable of producing large hail, severe wind gusts, and flash flood. Tornadoes are also forecast with the highest threat in the evening hours from Belgium into the SE UK. Strong tornadoes are not ruled out given the strong low-level jet and associated vertical wind shear.

In the evening and night hours, storms are forecast to cluster, spreading north-east. Severe threat will gradually weaken as storms become elevated, but given the strong low-level jet and ongoing frontogenetical forcing, threat of large hail, severe winds, tornadoes, and excessive rain is expected to continue until the early morning when the main activity is expected to shift to western Germany.

Central and southern France, north-eastern Spain

Hot and well-mixed air mass will be present ahead of an approaching cold front from the west. Low-level moisture is expected to be limited, but some moisture advection takes place from the north Mediterranean, especially to the north of the Pyrenees. Initiation of storms is forecast ahead of the approaching cold front from SE Spain to southern France and further into central France. Storms that form will have a potential to produce severe downbursts given the well-mixed low-level air mass. Additionally, vertical wind shear around 10-15 m/s in the lowest 3 km will allow for well-organized storms including supercells, capable of producing large or very large hail. Given the large cold pool potential, storms are forecast to cluster before they spread north-eastward in the evening and night hours.