Storm Forecast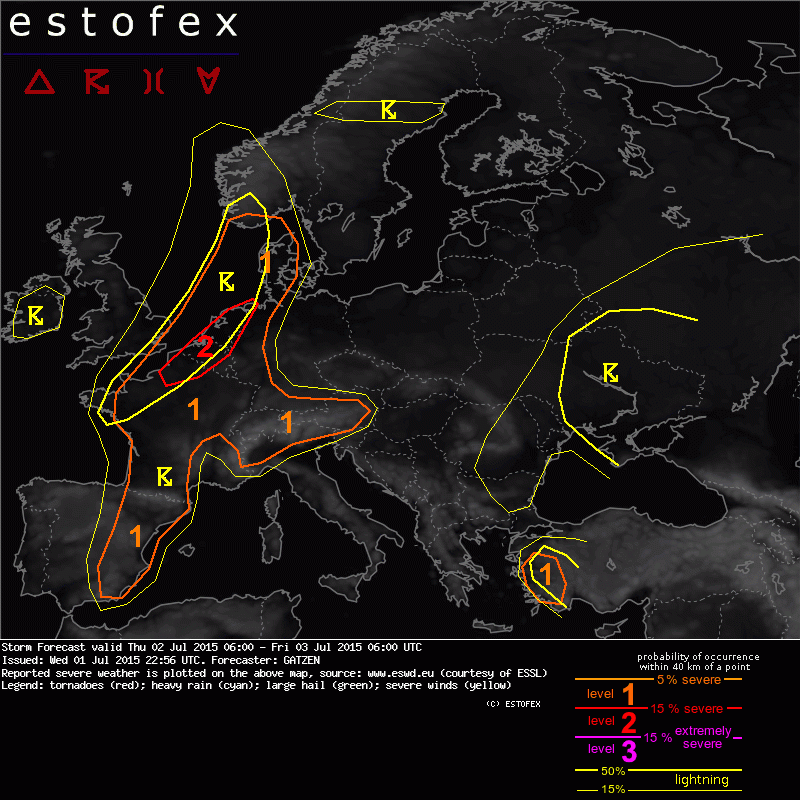 Storm Forecast
Valid: Thu 02 Jul 2015 06:00 to Fri 03 Jul 2015 06:00 UTC
Issued: Wed 01 Jul 2015 22:56
Forecaster: GATZEN
A level 2 was issued for NW France and N / central Benelux countries mainly for large hail and severe wind gusts and to a lesser extend tornadoes and excessive precipitation.

A level 1 was issued for the southern North Sea, southern Scandinavia, W Germany, central and western France, E Spain, and the Alps mainly for large or very large hail, severe wind gusts, and excessive precipitation.

A level 1 was issued for W Turkey mainly for large hail.

SYNOPSIS

An amplified ridge is located across western Europe, flanked by a deep N Atlantic trough and a trough/cut off across E Europe. A strong southerly jet extends from Iberia to the North Sea ahead of a lifting trough that will travel from the Bay of Biscay to the North Sea during the period.

At lower levels, a plume of warm air extends from the west Mediterranean to the North Sea. To the west, a sharp frontal zone will slowly progress east over France and the North Sea. Eastern Europe is affected by a northerly to easterly flow advecting dry and cooler air. Best low-level moisture will be co-located with the axis of warm air where it nicely overlaps with steep lapse rates. Focus of convective development will be a frontal convergence that slowly moves east.

DISCUSSION

Central and N France, Benelux countries, W Germany, and North Sea

A well developed frontal convergence zone is expected from Aquitaine in W France to the Benelux countries and the North Sea on Thursday morning. The exact location of this boundary is sensitive to overnights severe convection that has initiated across the Bay of Biscay and will spread northward overnight, leaving behind outflow boundaries.

In the morning hours, overnights storm cluster is expected to move north-east across northern France into the North Sea and the Benelux countries. Latest Trappes sounding indicates a well-developed elevated mixed layer that is expected to overlap with rich moisture indicated at 750 hPa in the Brest sounding, allowing for elevated CAPE around 1000 J/kg. With 15 m/s southerly winds at 700 hPa and 25 m/s SWerly winds at 500 hPa, these storms are forecast to become well-organized, and embedded supercells or multicells will be capable of producing large of very large hail.

In the late morning, storms will slowly move offshore across the North Sea and into the northern Benelux countries, where the severe threat is expected to increase. This is mostly due to plenty low-level moisture along the frontal convergence zone that allows for boundary-layer rooting of storms. Very strong low-level vertical wind shear can evolve at the cooler side of the frontal boundary and sea breeze convergence, and every supercell that forms in this regime and becomes surface rooted will be capable of producing strong tornadoes.

However, limiting factor is the capping inversion due to the rather cool boundary layer near the coasts and storms may not profit from the strongest low-level vertical wind shear. Nevertheless, very large of giant hail are not ruled out with the strongest cells. Severe wind gusts are also not ruled out, especially when storms manage to build cold pools and merge to a bow echo, moving NE along the coast. Local flash floods are not ruled out. A level 2 is issued.

Outflow boundaries from the morning storms may spread into southern / eastern France and W Germany during the day. Storm initiation is limited given the capping inversion. In the afternoon and evening, DCVA sets in from the west as the lifting trough axis approaches across France. This can assist in deeper convergence and initiation becomes more likely. Storms that form across south-western France can again become well-organized given 20 m/s DLS, capable of producing large hail and severe wind gusts. From eastern France to W Germany, vertical wind shear remains weak, but given 2000 J/kg CAPE and around 10 to 15 m/s DLS, large hail is forecast. Additionally, local excessive precipitation and severe wind gusts are not ruled out.

Storms are forecast to continue during the night hours and spread into southern Scandinavia. Main threat will be large hail until the morning hours.

Eastern Spain

At the warm side of the frontal boundary, moist air becomes unstable during the day due to low-level heating and steep mid-level lapse rates. Initiation is expected in the late morning when the vort-max of the lifting trough approaches the region from the west. Storms are expected especially where upslope flow evolves. Strong vertical wind shear up to 20 m/s in the lowest 6 km will allow for multicells and supercells, capable of producing large hail as well as local downbursts. In the evening and night, some storms may go on given increasing warm air advection ahead of a following short-wave trough. Large hail is therefore not ruled out until the morning hours.

Alps

Diurnally driven storms are expected due to steep lapse rates overlapping with rich low-level moisture and strong diurnal heating, leading to upslope flow over the mountains. Storms that form will pose a threat of large hail and strong downbursts as well as local excessive rain. In the evening and night hours, storm activity will slowly weaken.

W Turkey

Below the SE European cut-off, steep lapse rates are forecast across W Turkey. Given some low-level moisture, CAPE in the order of 500 J/kg is forecast. Storms are forecast to be weakly organized, but locally large hail is not ruled out.