Storm Forecast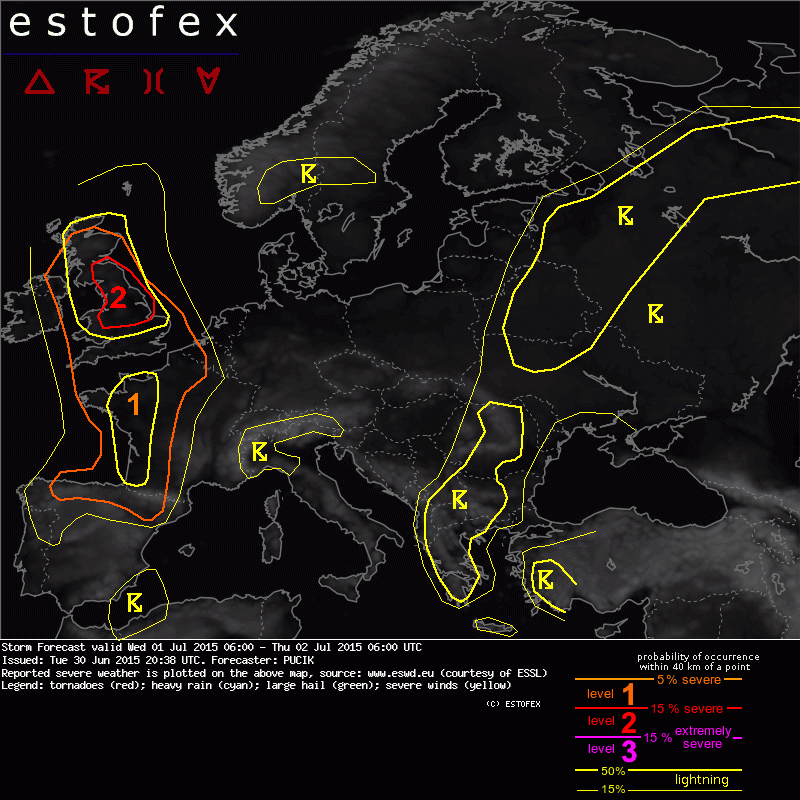 Storm Forecast
Valid: Wed 01 Jul 2015 06:00 to Thu 02 Jul 2015 06:00 UTC
Issued: Tue 30 Jun 2015 20:38
Forecaster: PUCIK
A level 2 was issued for N England, S Scotland mainly for large to very large hail, severe wind gusts, tornadoes and heavy rain.

A level 1 was issued for N Scotland mainly for large hail and heavy rain.

A level 1 was issued for S England mainly for large hail and severe wind gusts.

A level 1 was issued for W France mainly for severe wind gusts and large hail.

SYNOPSIS

An omega-type pattern is observed over Europe with a highly amplified ridge stretching from the Mediterranean towards S Scandinavia. On the western flank of the ridge, hot airmass along with an elevated mixed layer will be advected from Iberia towards United Kingdom in the 15-20 m/s of 700 hPa flow. As steep lapse rates are advected over the moister low-level airmass in strong shear regime, potentially severe situation will develop from S France towards N UK. Major uncertainity will be the convective initiation.

Different thunderstorm regime will exist over E Europe, where instability develops thanks to the cool mid-tropospheric temperatures. Here, initiation will be easily achieved after the diurnal heating commences. However, due to the weak wind shear, well organised convection is not expected.

DISCUSSION

... England, Scotland ...

Potentially very severe situation with number of question marks will develop over parts of UK. As the plume of steep lapse rates overspreads the low level airmass characterised by dewpoints of 16 - 18 deg C, moderate degree of latent instability will develop over the region. CAPE values will stay mostly between 500 - 1500 J/kg, but some models allow up to 2000 J/kg of CAPE, especially over N England / S Scotland. Strong flow at low to mid-troposphere will result in 15 - 25 m/s of 0-3 and 0-6 km bulk wind shear, values well conducive for organised convection. Furthermore, veering of wind with height will favour curved hodographs and more than 200 m2/s2 of SREH in the 0-3 km layer. Such conditions would be very conducive for supercells, probably in the HP mode, or bow echoes, as much of the wind shear is confined to the surface to 700 hPa layer. Large (or even very large hail), damaging winds and even tornadoes (especially in the northern part of Lvl 2 with low LCLs) could accompany such well organised storms.

There are two factor that may limit the overall severity of the situation:
A/ Degree of initiation. With no strong synoptic-scale upward motion and in the capped airmass, it may be difficult to initiate storms. Initiation will be more likely in the evening hours as 850 and 700 hPa temperatures begin to drop from the west and cold front affects the area.
B/ Stable boundary layer. Due to the very hot airmass around 850 hPa, it will require a lot of heating to destabilise the boundary layer and allow storms to root in it. Thus, especially in the early period, most storms will stay elevated (with primarily hail threat), as they move from France towards England. Surface based development will be most likely in the late afternoon and early evening hours.

Level 2 is introduced for the area, where best CAPE/shear overlap is simulated, as well as with the best chances for the surface based storm initiation.


... W France ...

Due to the capping, initiation of storms will be very late, perhaps apart from already ongoing elevated convection early in the forecast period over NW France. First initiation signals are over the Pyrennees or over SW France around 18 UTC. After this time, models agree on development and rapid northward movement of an MCS, which should develop as the trough approaches region from SW. However, there are discrepancies in the exact track - either over the Bay of Biscay or over extreme SW France. Very strong 0-3 km wind shear with values over 20 m/s would imply significant wind gust threat. However, due to the fact that instability will likely be elevated during the night hours, it is questionable if downdrafts will be able to penetrate stabilising boundary layer. This factor prevents us from issuing a Lvl 2 for the severe wind gusts attm, albeit a conditional chance for long swath of severe wind gusts will exist. Also, large hail may occur even with elevated storms, thanks to the very steep lapse rates.

... Greece to Romania, Belarus to Russia ...

Scattered to widespread thunderstorms will develop by 12 UTC over the area in the low to moderate latent instability. Due to the weak flow, slow moving storms may pose the risk of localised heavy rainfall. Also, stronger updrafts may produce marginally large hail or large quantities of small hail. With 0-6 km bulk shear below 10 m/s, storms will likely be poorly organised and Lvl 1 is not warranted.