Storm Forecast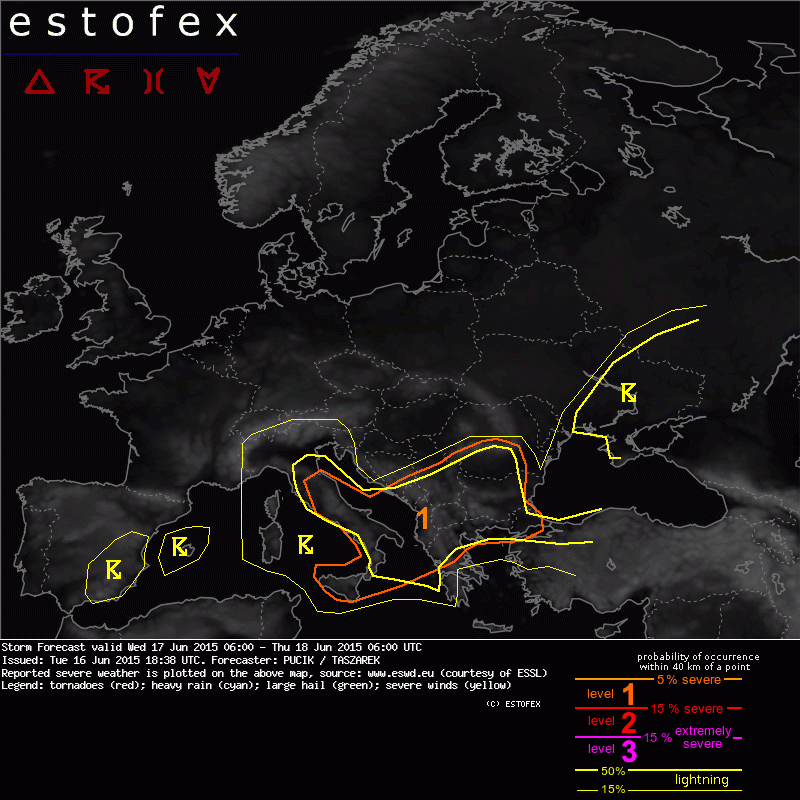 Storm Forecast
Valid: Wed 17 Jun 2015 06:00 to Thu 18 Jun 2015 06:00 UTC
Issued: Tue 16 Jun 2015 18:38
Forecaster: PUCIK / TASZAREK
A level 1 was issued for Sicily, S Italy, N Greece, FYROM, Albania, S Bulgaria mainly for large hail, severe wind gusts and to the lesser degree for excessive precipitation.

A level 1 was issued for Central Italy, S Serbia, Montenegro, S Romania, N Bulgaria mainly for excessive precipitation and to the lesser degree for large hail.

SYNOPSIS

At mid to upper troposphere, a ridge will stretch from the Atlantic into Western Europe with strong westerly to northwesterly flow at its northern flank. At its eastern flank, a small cut-off low will travel southwards from Czech Republic towards the Mediterranean, merging with a larger trough that will be initially centered over Central Italy. This trough will move slowly towards southeast, covering the Balkans area by Wednesday night hours. To the north, a short-wave will travel from the Baltic countries towards continental Russia. In the lower levels, cold front will continue to move south and southeastwards over the Mediterranean and Eastern Europe.

Most of the DMC activity will be tied to the area affected by the trough over Italy and Balkans, especially where moister airmass is located.

DISCUSSION

... Central, Southern Italy, Sicily, towards parts of Balkan Penninsula ...

A quite complex scenario will evolve over the region with a trough slowly drifting southeastwards. NWP is in fairly good agreement in the abundant low-level moisture ahead of the dry and cooler airmass advected behind the cold-front. Lapse rates will be enhanced by boundary layer heating and perhaps also by upward motion in the PVA sector of the trough. Initiation of thunderstorms will be tied to the local convergence zones, induced e.g. by diurnal heating of the land (Italy) or flow around the mountains (Carpathians) or by upslope flow regime.

MLCAPE will be the highest (values perhaps exceeding 1000 J/kg) over the southern part of the area, where most low-level moisture will be present. Degree of vertical wind shear will also increase towards the south, where stronger mid and upper tropospheric flow will be present. Areas like Sicily, S Italy, N Greece, N Aegeans and S Bulgaria may have favourable overlap of CAPE and DLS (values above 15 m/s, in case of Sicily over 20 m/s), so that well-organised convection, including supercells is expected. In such regime, large hail and severe wind gusts will be primary threats.

Towards the north, weaker flow is forecast and due to the slower storm motion, heavy rainfall will become the primary threat (Central Italy, S Serbia, S Romania, N Bulgaria). As convection grows upscale, heavy rainfall threat may also shift towards the south, affecting N Greece or S Bulgaria.