Storm Forecast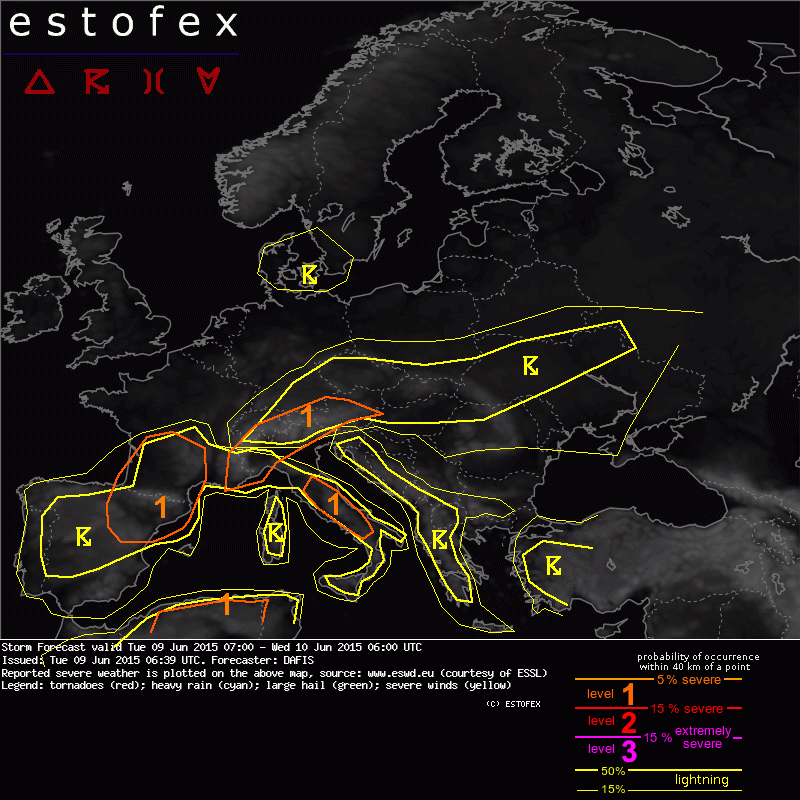 Storm Forecast
Valid: Tue 09 Jun 2015 07:00 to Wed 10 Jun 2015 06:00 UTC
Issued: Tue 09 Jun 2015 06:39
Forecaster: DAFIS
A level 1 was issued for parts of NE Spain and S France for excessive precipitation, large hail and severe wind gusts.

A level 1 was issued for Alpine region mainly for excessive precipitation.

A level 1 was issued for central Italy for excessive precipitation.

A level 1 was issued for Algeria for excessive precipitation and large hail.

SYNOPSIS

A high pressure system is established in NW Europe while a longwave trough extends from Scandinavia to west France and tomorrow a cut off upper air low will form eventually above the Bay of Biscay. Unstable and hot conditions prevail over most of the Mediterranean and a large part of E Europe will experience some weak thunderstoms during the afternoon hours.


DISCUSSION

....Alpine region....

Air mass over the Alps features a rich BPL moisture content with surface dewpoint readings in the upper tens/lower twenties, especially in NW Italy and SE France. Steep lapse rates in the evening will overlap with values of MLCAPE around 1500 - 2000J/kg along with very moist BPL, create a favorable environment for long persisting storms as DLS is weak.

....Spain and France....

Overall conditions favor rapid to explosive thunderstorm development on an isolated to scattered scale regarding thunderstorm coverage. High LCL over Spain and DLS 0-6km of 10-15m/s overlapping MLCAPE around 1000J/kg indicate that large hail and strong wind gusts will be the main risk. A tornado risk may arise along the coast of SW France and NW Spain where the vertical wind shear 0-6km ranges between 10-20 m/s, LLS 0-1km around 10m/s with SREH of 200-250 m2/s2, locally can increase to 300 m2/s2 in the late evening, but not all of it will be effective since there is an uncertainty about the final degree of instability in C - SW France as this area is under right entrance of a jet streak but CAPE values are quite low.

....Central Italy....

For Italy, high values of CAPE (1-2 kJ/kg) and weak DLS 0-6km indicate that the storm cells that are expected to be quasi stationary producing large amounts of precipitation mostly at the mountainous areas of central Italy (BPL mixing ratio >10g/kg) and also large amounts of hail is not ruled out. While WRF models predict persistent storms and large precipitation sums along the southern coast of Italy (Sicily), it will probably be constrained to isolated places since upscale growth seems limited by CIN.

....N Algeria....

Very moist BPL (>10g/kg) enriched by the north low level flow, deep layer shear 0-6km of 15-20m/s and MLCAPE of 1500-2000J/kg indicate a threat of well organized storm cell during the evening hours when excessive precipitation and large hail events are expected.