Extended Forecast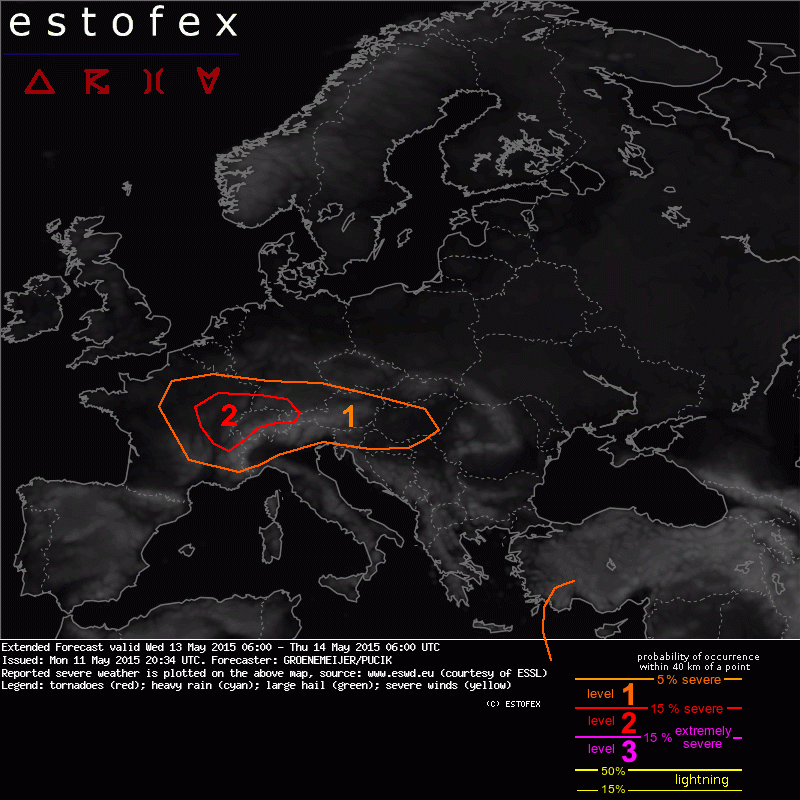 Extended Forecast
Valid: Wed 13 May 2015 06:00 to Thu 14 May 2015 06:00 UTC
Issued: Mon 11 May 2015 20:34
Forecaster: GROENEMEIJER/PUCIK
SYNOPSIS and DISCUSSION

After the southward progression of a cold front on Tuesday, model consensus is that it will stall across central France and the north Alpine flanks. These will likely be locations of severe weather on Wednesday. The airmass to the south of the front is expected to heat strongly, particularly across France, where CAPE of ~2000 J/kg should develop. About 500-1000 J/kg are likely both on the northern and southern Alpine slopes across Switzerland, Germany, Austria, Italy and Slovenia. The configuration appears prone to severe weather especially because of the strong vertical wind shear, caused by a rather strong 25 m/s mid-level flow parallel to the front.

During late afternoon, evening and night, upward motion is forecast as the left exit of a jet approaches from the west. This will support widespread deep convection to develop. Low level winds will also strengthen during the day with wind speeds of 20-25 m/s at 850 hPa predicted per GFS and ECWMF. This will lead to strong low-level shear.

During the afternoon, scattered to widespread storms should develop in vicinity of the front across Central and East France, Switzerland, south Germany as well as southeastern Austria. More isolated storms are expected over the Alps and north Italy.

The strong deep-layer shear, and sizeable 0-3 km storm-relative helicity (250 afternoon, 300-400 m2/s2 evening) near the front will support the development of supercells that may produce very large hail. As the low-level wind shear increases towards the evening, a favorable time window for tornadoes may develop before the storms become elevated. At the moment, the highest risk appears to be over Switzerland, E France and SW Germany. In addition, severe gusts may occur with any storm that develops with such a strong low-level flow.

It is likely that storms will continue to travel eastward within the frontal zone just north of the Alps during the night, leading to high accumulations of precipitation and some risk of flooding.