Storm Forecast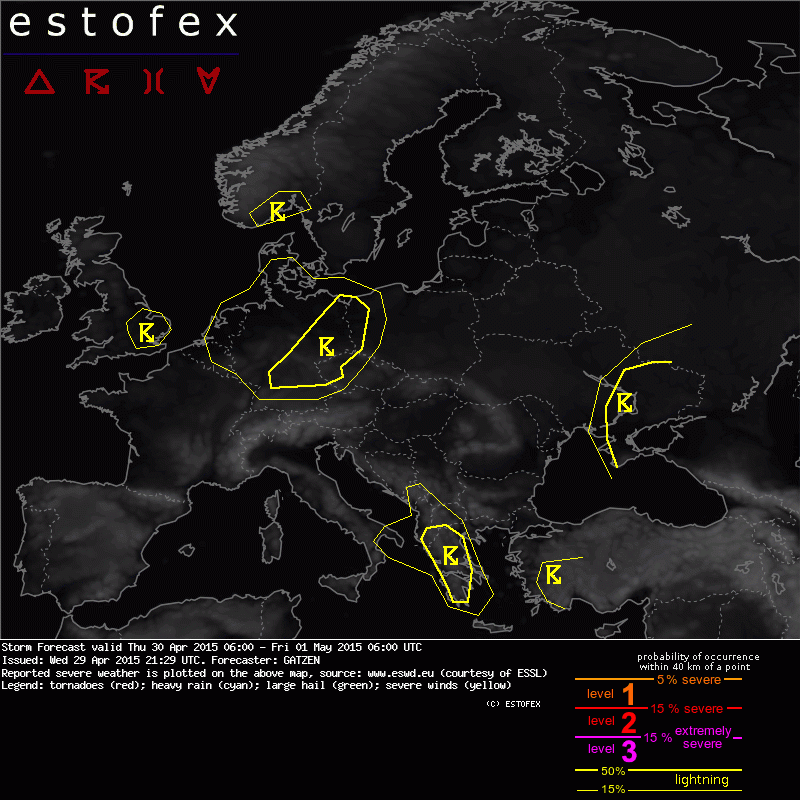 Storm Forecast
Valid: Thu 30 Apr 2015 06:00 to Fri 01 May 2015 06:00 UTC
Issued: Wed 29 Apr 2015 21:29
Forecaster: GATZEN
SYNOPSIS / DISCUSSION

Large long-wave trough affects Europe. The main vort-max will extend from the North Sea to the Adriatic Sea and moves east. 800-600 hPa lapse rates about 7 K/km are expected near the vort-max, overlapping with 7 g/kg 0-500m mixing ratio. Diurnal heating will result in weak CAPE until the evening, and storms are forecast especially over SE Germany and Greece.

Vertical wind shear is weak near the trough center. Severe thunderstorms are not likely. The highest potential is forecast across central Germany in the afternoon hours. At the cyclonically sheared flank of a mid-level jet streak in the wake of the vort-max, 0-3 km vertical wind shear increases to 10 m/s. This shear can overlap with CAPE south of a frontal wave along the cold front over central Germany. Multicells and mesocyclones may develop, posing a threat of isolated large hail and maybe a brief tornado. Storms will spread east until the evening when they are expected to decay. Overall threat is too low for a level 1 at this time.

Dry low-level air masses and weak lapse rates are expected over must of Europe, and severe thunderstorms are not forecast.