Storm Forecast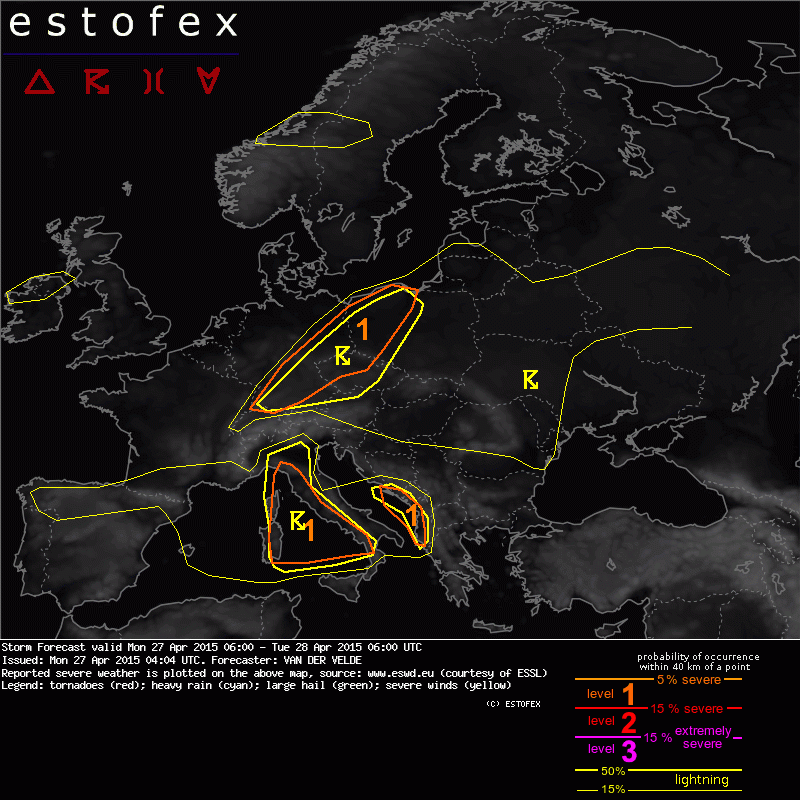 Storm Forecast
Valid: Mon 27 Apr 2015 06:00 to Tue 28 Apr 2015 06:00 UTC
Issued: Mon 27 Apr 2015 04:04
Forecaster: VAN DER VELDE
A level 1 was issued for Germany, Czech Republic and Poland mainly for large hail.
A level 1 was issued for parts of Italy and southern Adriatic Sea mainly for isolated excessive precipitation and large hail.

SYNOPSIS

A broad mid/upper trough shifts from western Europe into central Europe. Dynamic lifting occurs ahead of a large PV feature moving eastward through the Mediterranean across Italy. North of the Alps, a cold front enters Germany from the northwest and sharpens during the afternoon spanning SW-E across Germany with a convergence line on its warm side and a low pressure core over southeastern Germany.

DISCUSSION

...Italy and southeastern Adriatic Sea...

Slight MLCAPE (<500 J/kg) combines with slightly enhanced/moderate vertical wind shear (10 m/s) and strong vertical motion ahead of the PV feature and mid level cold front. This should result in widespread deep convection of which some storms may carry large hail. Cells may become quite stationary along the coastline of western Italy and later the region between Croatia and Greece and deliver tens of millimeters of rain. The rain threat is supported by low LCL heights at the leading edge of the unstable airmass where triggering should be strongest. Low level shear is weak, not supportive of tornadoes.

...Germany to Poland....

Along the frontal zone some 200 mē/sē of 0-3 km SREH is calculated by GFS, and over 10 m/s deep layer shear. Such values do not reach far eastward while CAPE gets worse closer to the front. Storms may develop mesocyclones and produce large hail. Lack of low-level shear does not help other threats. The potential for severe storms may well be limited by the parallel orientation of shear vectors and storm motion along the front which could reduce the supply of warm air into the storms as the afternoon progresses.