Storm Forecast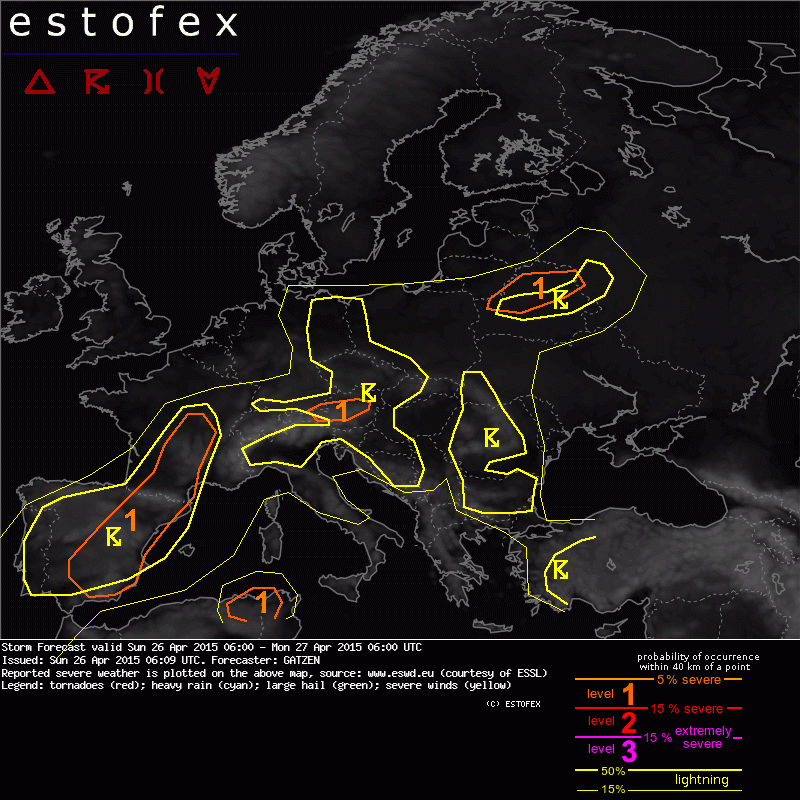 Storm Forecast
Valid: Sun 26 Apr 2015 06:00 to Mon 27 Apr 2015 06:00 UTC
Issued: Sun 26 Apr 2015 06:09
Forecaster: GATZEN
A level 1 was issued for eastern Spain mainly for large hail.

A level 1 was issued for southern France mainly for large hail and excessive precipitation.

A level 1 was issued for central France mainly for large hail.

A level 1 was issued for central and northern Belaus mainly for large hail.

A level 1 was issued for central Austria mainly for large hail.

A level 1 was issued for north-eastern Algeria mainly for large hail.

SYNOPSIS

At the southern flank of an intense long-wave trough over NW Europe, a former closed low migrates east, crossing the Iberian Peninsula and western France today. A strong jet streak rapidly spreads east over northern Morocco and Algeria, providing strong DCVA from southern Iberia into the W Mediterranean. Downstream of this trough, a weakening south-westerly flow affects Central Europe, whereas broad low geopotential with cold mid-levels remains across most of eastern Europe.

At lower levels, rather warm air masses extend from the west Mediterranean into central and eastern Europe. Increasing lapse rates are expected from the Mediterranean to the Alps, across the Balkans, and over parts of eastern Europe. Given increasing low-level moisture as well, a broad area of CAPE is expected in response to diurnal heating to the south of a cold front that extends over northern France, Germany, Poland, and Belarus. Weak CAPE is present from south-eastern Europe to the southern Mediterranean.

DISCUSSION

Spain and France, NW Mediterranean

Strong QG forcing is expected today ahead of the approaching upper trough and associated jet streak. Low-level warm air advection affects France, whereas some cold air advection is expected across Iberia. Steep lapse rates will evolve across Iberia that spread NE into southern France and the SW Mediterranean, overlapping with rich moisture. Diurnal heating will be limited due to clouds, however, CAPE is expected over a broad region.

The potential of organized storms increases during the day due to the approaching south-westerly jet and an increasing low-level jet across southern France. In the afternoon and evening, vertical wind shear will be around 15 m/s in the lowest 3 km from eastern Spain to southern France. Best overlap with CAPE is expected in the Pyrenees area.

Current thinking is that widespread thunderstorms will evolve in response to diurnal heating from Iberia to southern and central France. Over northern France, weak lapse rates will limit the chance of storms. Most storms will be not well-organized given limited vertical wind shear and CAPE. However, from eastern Spain to southern France, stronger shear and increasing low-level jet can favour intense multicells of supercells that may merge to an MCS in the evening hours. Large hail is forecast with the most intense storms. Excessive rain is also a threat, especially when a well-organized MCS can form.

Storms are forecast to spread east during the night where severe potential gradually decreases across the cool Mediterranean Sea.

Belarus and surroundings

Moist air masses spread into eastern Europe today. Given relatively steep lapse rates and some diurnal heating, CAPE can evolve during the day. Synoptic-scale forcing is weak, but a low-level convergence is forecast from eastern Poland towards central Belarus. Showers and thunderstorms are forecast along this boundary during the day. Storms are not forecast to become well-organized, but given about 10 m/s 0-3 km vertical wind shear along and north of the convergence, a few hail reports are not ruled out. As low-level vertical wind shear is about 10 m/s as well, a tornado is not ruled out. Overall potential is to weak for a level 1 threat over most places, though.

Alpine region, Italy, northern Balkans

Diurnal heating of a moist and rather unstable air mass results in CAPE during the day. Initiation is most likely over the mountains, and numerous storms are forecast in the afternoon hours. Vertical wind shear is expected to be weak over most places, and potential of severe weather is rather low. However, locally large hail is not ruled out with the stronger storms.

Best potential exists across the eastern Alps, where low-level vertical wind shear is expected to increase during the day along with steep lapse rates sampled by latest Vienna sounding. This increases the chance of multicells or mesocyclones, and the potential of large hail is higher compared to the other regions. A marginal level 1 was issued.

Northern Algeria

High CIN seems to limit the chance of storms today. However, the overlap of rich moisture and en EML will allow for CAPE today, and any storm that forms will have the potential to produce large hail in the strongly-sheared environment.