Storm Forecast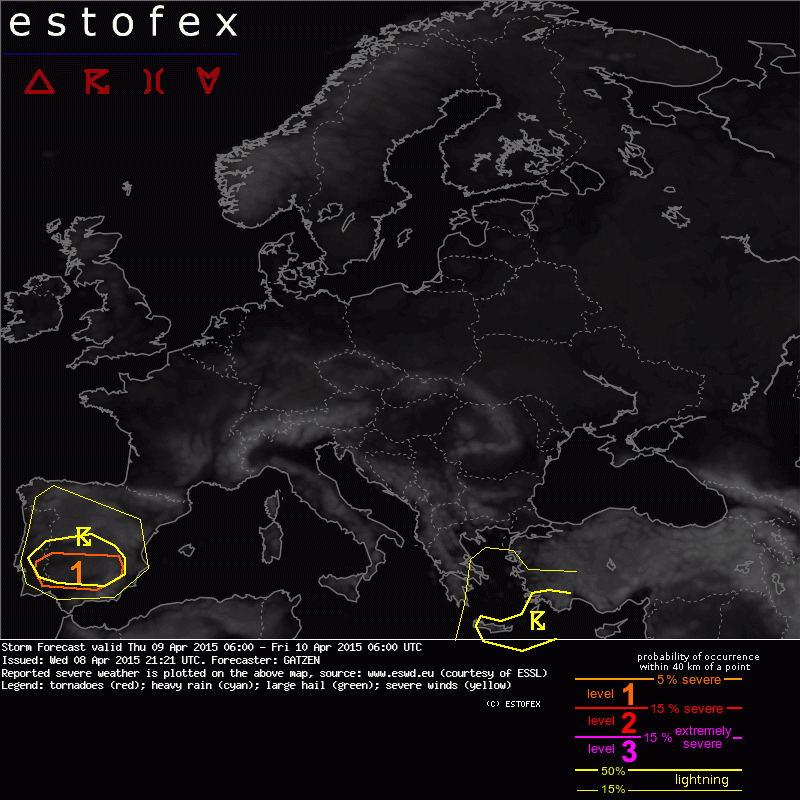 Storm Forecast
Valid: Thu 09 Apr 2015 06:00 to Fri 10 Apr 2015 06:00 UTC
Issued: Wed 08 Apr 2015 21:21
Forecaster: GATZEN
A level 1 was issued for southern Portugal and southern Spain mainly for large hail.

SYNOPSIS / DISCUSSION

Between troughs centred west of Iberia and across the Aegean, a subtropical high ridges into western Europe. A strong mid-level jet curves around the ridge, but the potential of thunderstorms at its cyclonically sheared flank is limited due to weak moisture at lower levels. An exception is the Aegean Sea where better moisture overlaps with steep lapse rates near the trough centre. Weak vertical wind shear is forecast and organized storms are not expected.

Across western Europe, better moisture is present especially across southern Iberia, but also from northern Germany into the British Isles area and across southern France. Weak flow over the northern regions and relatively cool low levels (almost no CAPE) keeps the thunderstorm potential too low for a risk area.

Across southern Iberia, cloud coverage and precipitation can limit low-level heating, but latest models indicate some clearings behind a warm front spreading north during the day. This can result in CAPE development as GFS suggests (around 500 J/kg MLCAPE). QG forcing will increase in the afternoon given a weak short-wave trough crossing southern Spain from the west. Current thinking is that thunderstorms can evolve in a fairly moist air mass with weak CIN. Vertical wind shear is rather weak in the models, but given the rather strong flow from low to mid-levels and possible stronger low-level veering, organized storms are not ruled out. Especially supercells may be capable of producing large hail. The potential of severe weather is limited, though.