Storm Forecast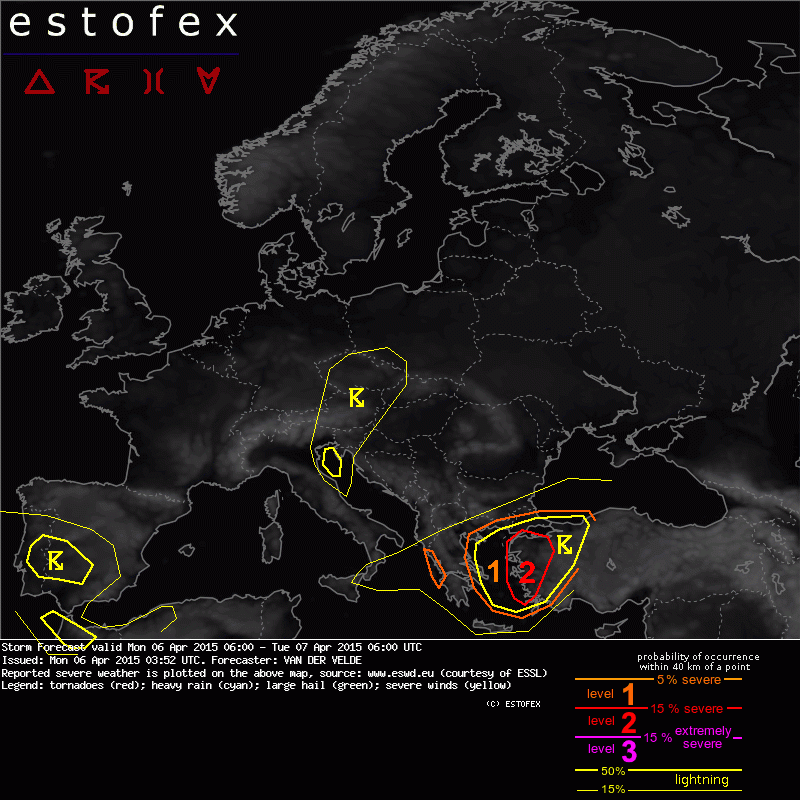 Storm Forecast
Valid: Mon 06 Apr 2015 06:00 to Tue 07 Apr 2015 06:00 UTC
Issued: Mon 06 Apr 2015 03:52
Forecaster: VAN DER VELDE
Levels 1 and 2 were issued for the Aegean Sea and western Turkey mainly for severe convective wind gusts and tornadoes.

SYNOPSIS

At mid levels, a solid high is present over the British Isles while a deep trough is in control of southeastern Europe. Shortwave troughs belonging to this system move from Poland to Italy and from western Greece to Turkey. The former is associated with a bubble of cold 500 hPa temperatures causing steep lapse rates, with cool dry air near the surface. The latter is a baroclinic situation with warm low-level air flowing northward over the Aegean Sea with a cold front activated by a sharp PV feature entering the level 1 area around 15Z. Over the Iberian Peninsula and Morocco a plume with enhanced theta-e is drifting toward a weak low over the Atlantic Ocean. It produces some thunderstorm activity.

DISCUSSION

...Aegean and western Turkey...

Due to strong mid level winds rounding the large Balkan trough, e.g. 25 m/s at 700 hPa, 0-6 km vertical wind shear should reach over 30 m/s over the eastern Aegean, while 0-1 km shear mainly varies between 10-15 m/s. On the warm side of the surface cold front, storm-relative helicity predicted by the GFS model ranges 200-400 mē/sē. When storms are triggered by the sharp cold front or other convergence zones in conjunction with the shortwave trough these conditions help organize supercells in addition to linear systems. The only negative factor is relatively modest and locally elevated-parcel CAPE in the range of 200-600 J/kg. This may limit the occurrence of large hail to some extent. The main threats are severe wind gusts as the 1-3 km AGL winds are calculated by GFS to be 20-25 m/s in the level 2 region and storm-relative winds (Corfidi vectors) and the linear forcing support a forward-building linear system. Tornadoes are quite possible with the high low-level shear and low LCLs and weak CIN during the evening across western Turkey (level 2 area).