Storm Forecast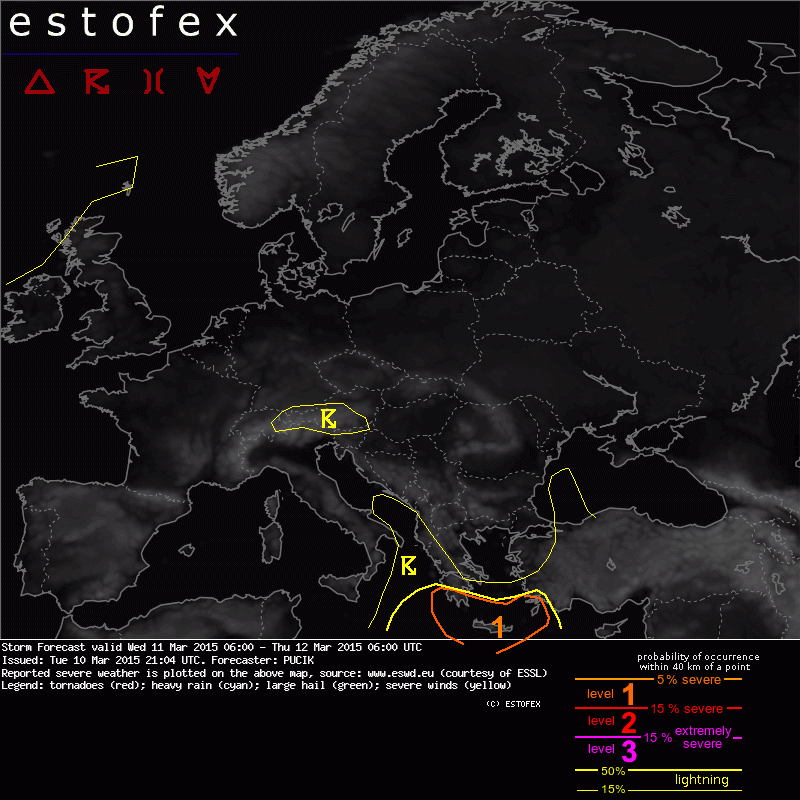 Storm Forecast
Valid: Wed 11 Mar 2015 06:00 to Thu 12 Mar 2015 06:00 UTC
Issued: Tue 10 Mar 2015 21:04
Forecaster: PUCIK
A level 1 was issued for the SE Ionian, S Aegean sea, Crete mainly for marginally large hail and excessive precipitation.

SYNOPSIS

Quite complicated pattern is forecast with a ridge stretching from the Azores into Iberia and SW France. On its periphery, two short-wave troughs are simulated. The first one will cross N British Isles, accompanied by deep low pressure system. Especially NW Scotland may see severe wind gusts, which will be of non-convective origin. The second short-wave trough will dropp SEwards from E Germany, through Bohemia towards the Adriatics. Trough is forecast to merge with a large pool of low geopotentials over SE Europe.

This region will see the most DMC activity with isolated to scattered thunderstorms thanks to the low level convergence and marginally unstable airmass.

DISCUSSION

... SE Ionian, S Aegean sea, Crete ...

Even though only modest low-level moisture is observed over the region, cold mid-level temperatures will contribute to lapse rates steeper than 7 K/km in mid-troposphere. This combination should result in several hundreds J/kg of CAPE. Strong SW-ly flow will be displaced more to the east, so that only marginal to moderate DLS is forecast, mostly between 10 - 15 m/s. In the zones of low-level convergence, scattered storms will initiate. Main convective mode should be multicell clusters. Thanks to the steep lapse rates, marginally large hail may occur with the stronger updrafts. Due to the slow moving nature of storms, isolated excessive precipitation event is not ruled out either.