Storm Forecast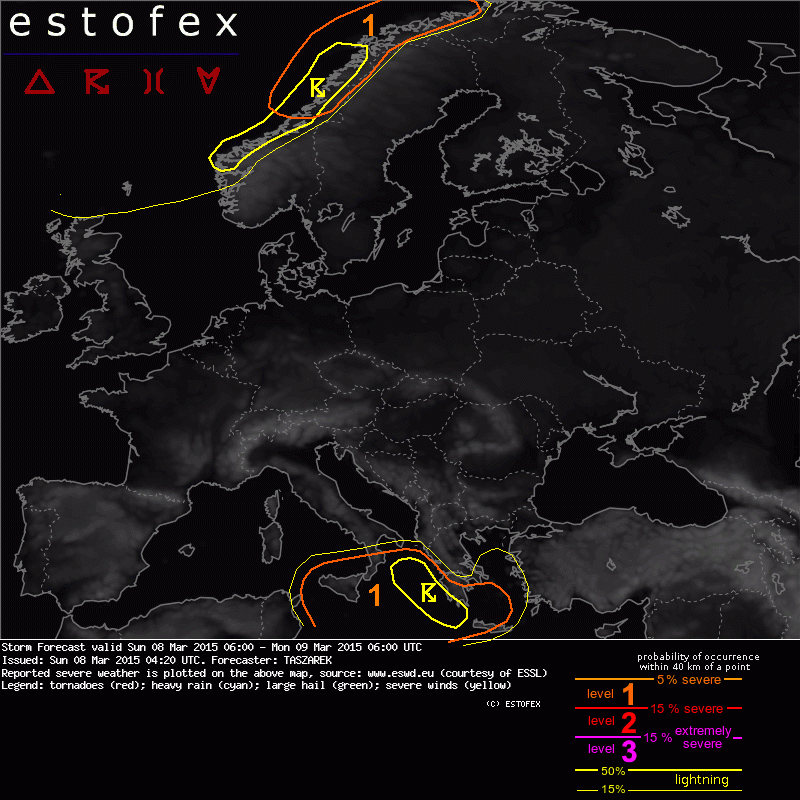 Storm Forecast
Valid: Sun 08 Mar 2015 06:00 to Mon 09 Mar 2015 06:00 UTC
Issued: Sun 08 Mar 2015 04:20
Forecaster: TASZAREK
A level 1 was issued for N Norway mainly for severe wind gusts.

A level 1 was issued for Ionian Sea and parts of S Italy mainly for waterspouts.

A level 1 was issued for S Greece and S Aegean Sea mainly for severe wind gusts and large hail.

SYNOPSIS

Ridge on the 500 hPa layer extending from Azores High to central and eastern Europe provide warm and dry weather conditions. Warm air advection will be particularly the strongest over the Baltic Sea where 850 hPa temperature will exceed 10C. MSLP high with pressure over 1030 hPa will extend from Slovakia to Ukraine and also limit convection. Most of the N Europe will be under influence of deep low that will trail through Norwegian Sea. On its rear side, mid-level cold air is expected to be advecting to N Scandinavia during the forecast period. Large horizontal temperature contrast that induces strong pressure gradient in this area, provides strong latitudinal air flow and significant vertical wind shear. Pressure area below 1020 hPa is forecast to cover most of the S and SE Europe. Jet streaks will be stretching from British Isles to Scandinavia, and along the coast of Algeria and Egipt.

DISCUSSION

... N Norway ...

Instability up to 400 J/kg that is resulting from strong mid-level cold air advection and lapse rates exceeding 8 C/km will occur in the zone of 850 hPa wind speed ~ 20-25 m/s. Convection that will occur in such environment can enhance surface wind speed gusts according to NWP models up to 25-30 m/s. Although free convective layer is forecast to be quite shallow (that is usual for thunderstorms occurring in this kind of air mass), the largest probability for lightning will fall on the coastal areas where orographic lifting over Scandinavian Mountains will overlap with favorable QG lift.

... Ionian Sea and parts of S Italy ...

Weak wind flow in low and mid-levels together with low height of LFC, increased vertical temperature gradient (~ 7 C/km) and favorable QG lift within thermodynamic instability up to 800 J/kg create good conditions for waterspouts. Although the boundary layer's mixing ratio is forecast to exceed 6-7 g/kg, the lack of vertical wind shear will limit the occurrence of other severe weather phenomena of convective origin.

... S Greece and S Aegean Sea ...

Dangerous overlap of 0-3km SRH exceeding 300 m2/s2, DLS ~ 20-25 m/s, and CAPE around 100-200 J/kg within mixing ratios over 7 g/kg create threat for supercell thunderstorms.Within them, large hail and severe wind gusts are forecast to be the main threat. Given marginal instability and cloud tops that will not exceed -20C, electrifization is not forecast to be significant. The best conditions for convection in this area are expected in the evening and nighttime hours when favorable QG-forcing will be present. Locally enhanced LLS cannot rule out risk for the mesocyclonic tornado occurrence, especially in the evening hours.