Storm Forecast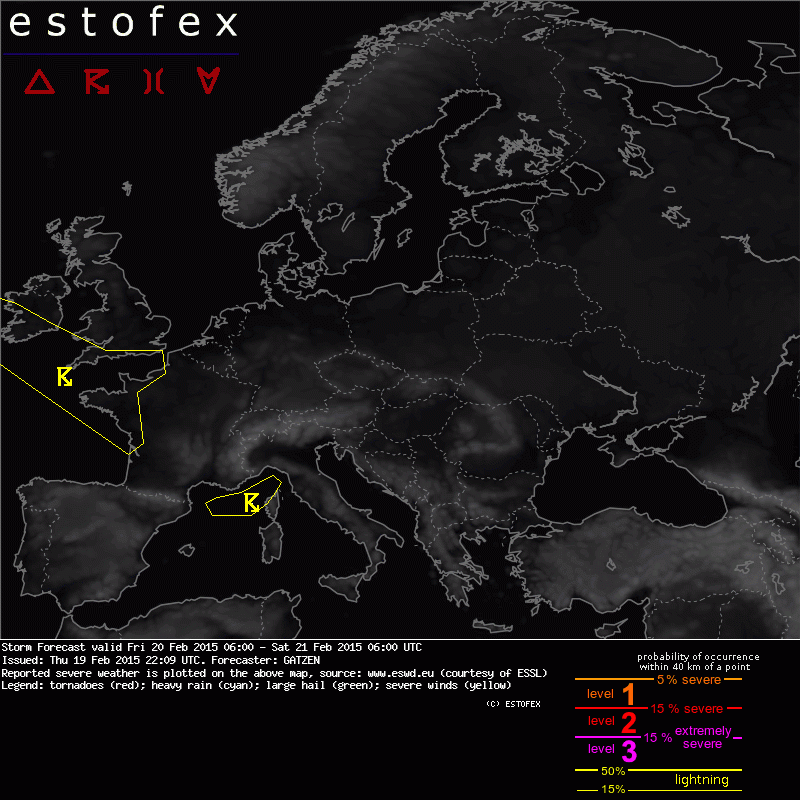 Storm Forecast
Valid: Fri 20 Feb 2015 06:00 to Sat 21 Feb 2015 06:00 UTC
Issued: Thu 19 Feb 2015 22:09
Forecaster: GATZEN
SYNOPSIS / DISCUSSION

The European high weakens and spreads south-east into the Black Sea region. Dry air will remain across most of Europe, although moisture will recover across the east Mediterranean. Additionally, lapse rates are poor over most places.

Troughs across north-western Europe start to amplify downstream of an Atlantic ridge. It will start to affect the west Mediterranean late in the period. Due to south-easterly low-level flow ahead of the first frontal system, improving low-level moisture is expected. This moisture can overlap with steeper lapse rates forming due to QG lift ahead of the trough. A few rather isolated storms are expected during the night hours. Organized storms are not expected given the weak vertical wind shear.

Showers and thunderstorms may also form across the western British Isles. Strong DCVA is expected at the cyclonically sheared flank of mid-level jet streak, and lapse rates can improve in the afternoon and evening. Although low-level moisture is pretty marginal what limits that chance of thunderstorms, a few events are not ruled out. With strong deep layer vertical wind shear (more than 40 m/s possible), some organized storms are not ruled out, with severe wind gust the main streat.