Storm Forecast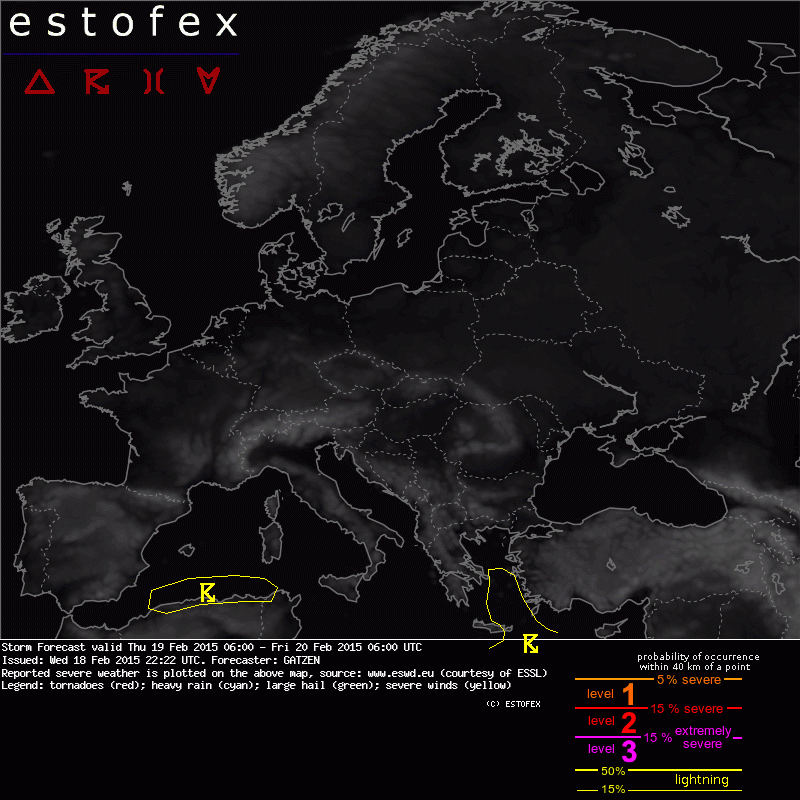 Storm Forecast
Valid: Thu 19 Feb 2015 06:00 to Fri 20 Feb 2015 06:00 UTC
Issued: Wed 18 Feb 2015 22:22
Forecaster: GATZEN
SYNOPSIS / DISCUSSION

An intense polar vortex will spread southward across Turkey and moves into the east Mediterranean. Very cold air masses will be advected offshore, where steep low-level lapse evolve. Although low-level moisture is pretty marginal with 3 g/kg in the lowest kilometre, some low-topped storms are expected offshore. Weak vertical wind shear and marginal CAPE are expected to limit the severe potential of these storms.

Further west, cold mid-level air is present across most of the Mediterranean. However, cold low levels are also present and instability is absent across most regions as indicated by latest Palma de Mallorca sounding. Current thinking is that instability forms in the southern portions of the Mediterranean Sea where a few low-topped storms can form. Weak vertical wind shear is present, and organized storms are not forecast.

Across northern Europe, an Atlantic trough will move into the British Isles, creating lift and steeper lapse rates. However, instability is only marginal due to cold and dry low levels and thunderstorms are not forecast.