Storm Forecast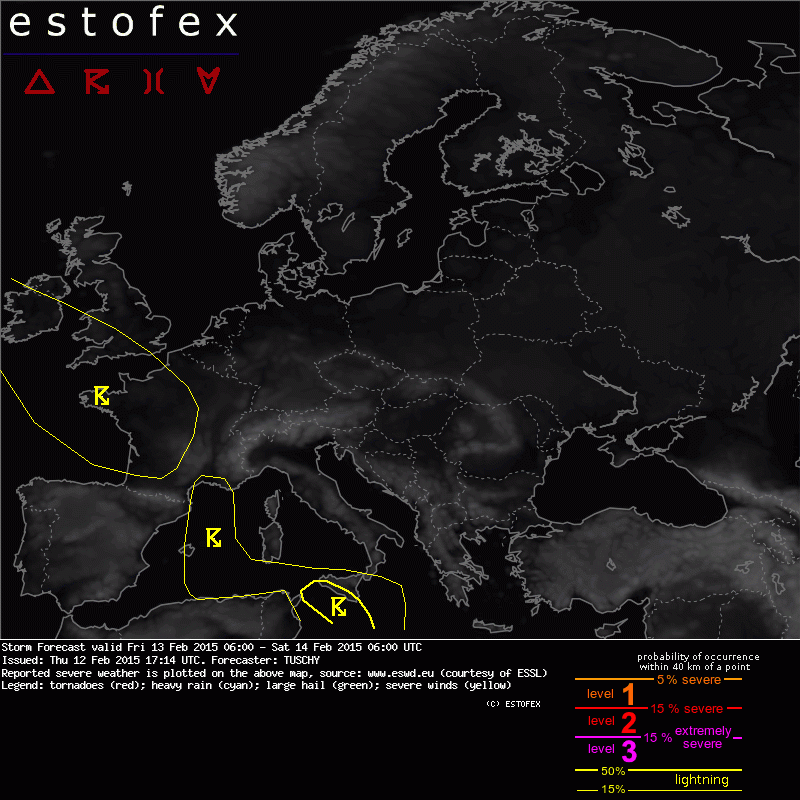 Storm Forecast
Valid: Fri 13 Feb 2015 06:00 to Sat 14 Feb 2015 06:00 UTC
Issued: Thu 12 Feb 2015 17:14
Forecaster: TUSCHY
SYNOPSIS and DISCUSSION

A vast high pressure area covers most of CNTRL/E Europe. Its opponent is a low, which approaches W-Europe during the forecast. Its center crosses Ireland and will be found over SW UK during the end of the forecast. By that time, this low is already in an ongoing weakening process.

A few weakly electrified and short-lived thunderstorms will be possible in its area of influence. Ireland could see a somewhat higher thunderstorm coverage as coldest mid-level air mass crosses the region during the afternoon hours. Some diabatic heating should induce deeper updrafts in a weakly capped environment. Graupel and gusty winds will be the main hazard.

We also added the W-Mediterranean in a low probability lightning area. N-S band of LL convergence with falling pressure / mid-level heights and weak LL moisture pooling add enough confidence for a few non-severe thunderstorms.

With backing LL flow S of Sicily, better LL moisture is forecast to spread north beneath cold mid-levels, which increases the risk for enhanced thunderstorm activity. Very weak steering flow indicates slow moving/clustering storms could pose an heavy rainfall risk. Right now it remains uncertain where to place a potential level 1 area, but confidence for numerous storms is adequate for a high probability lightning area. This area could see a few heavy rain events especially from Malta to S-Sicily.

Elsewhere, no organized thunderstorm activity is forecast.