Storm Forecast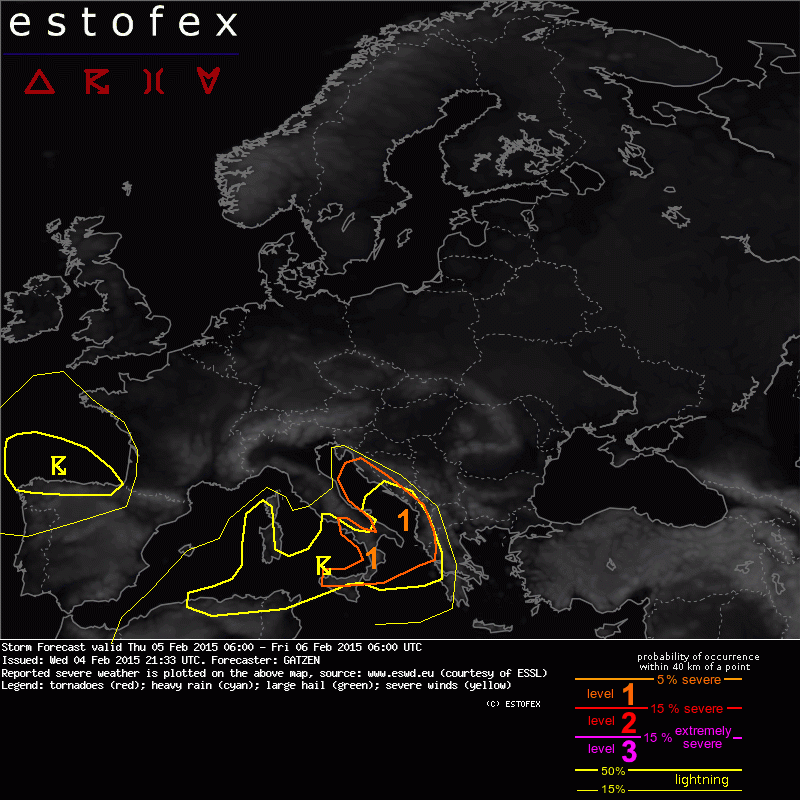 Storm Forecast
Valid: Thu 05 Feb 2015 06:00 to Fri 06 Feb 2015 06:00 UTC
Issued: Wed 04 Feb 2015 21:33
Forecaster: GATZEN
A level 1 was issued for the Tyrrhenian Sea into Ionian Sea, southern Italy, and southern/central Adriatic region mainly for excessive precipitation and to a lesser extend tornadoes, large hail, and severe wind gusts.

SYNOPSIS

A broad European trough moves eastward, leaving a large cut-off low centred across the west Mediterranean behind. A vort-max currently over Denmark will be involved in the cut-off circulation, resulting in a dipol structure late in the period. One centre will move as negatively tilted short-wave trough across Italy, whereas the other will cross Iberia. Ridging affects north-western Europe as well as the south-east ahead of the cut-off.

At lower levels, warm air advection continues across south-eastern Europe, whereas cold air masses remain over most of Europe. The very dry boundary layer limits the potential of deep moist convection over most places except for the Mediterranean, the Bay of Biscay, and parts of the Balkans.

DISCUSSION

Tyrrhenian Sea into Ionian Sea, southern Italy, and southern/central Adriatic region

Ahead of the west Mediterranean cut-off low, a strong southerly jet affects the area. Differential cyclonic vorticity advection is expected at the cyclonically sheared flank of the mid-level jet streak as well as ahead of the approaching negatively tilted trough axis late in the period.

At lower levels, models agree on increasing southerly flow advecting warm air masses from the Atlas mountains into the Ionian Sea and further into the Adriatic region. This air mass will cap the moist boundary layer initially, although moisture is expected to increase to more than 10 g/kg mixing ratio. Latest GFS indicates CAPE of 500-1000 J/kg within the warm air mass. Initiation is forecast along land-sea-breeze convergence lines as well as due to upslope flow along the mountains of Italy and the southern Balkans.

Increasing QG forcing is expected in the afternoon hours. Cyclogenesis at the nose of the low-level jet is expected on the lee side of the Apennines, and a cold front crosses Italy and moves into the southern Balkans in the evening and night hours. These processes will be associated with widespread precipitation and embedded thunderstorms. Best potential of storms is over the warm sea surface, whereas the colder boundary layer over the land limits the thunderstorm potential.

Main threat will be excessive precipitation especially where upslope flow assists storms. Furthermore, increasing low-level vertical wind shear could support mesocyclones capable of producing tornadoes and large hail. Severe wind gusts are not ruled out, especially when bowing lines can develop.