Storm Forecast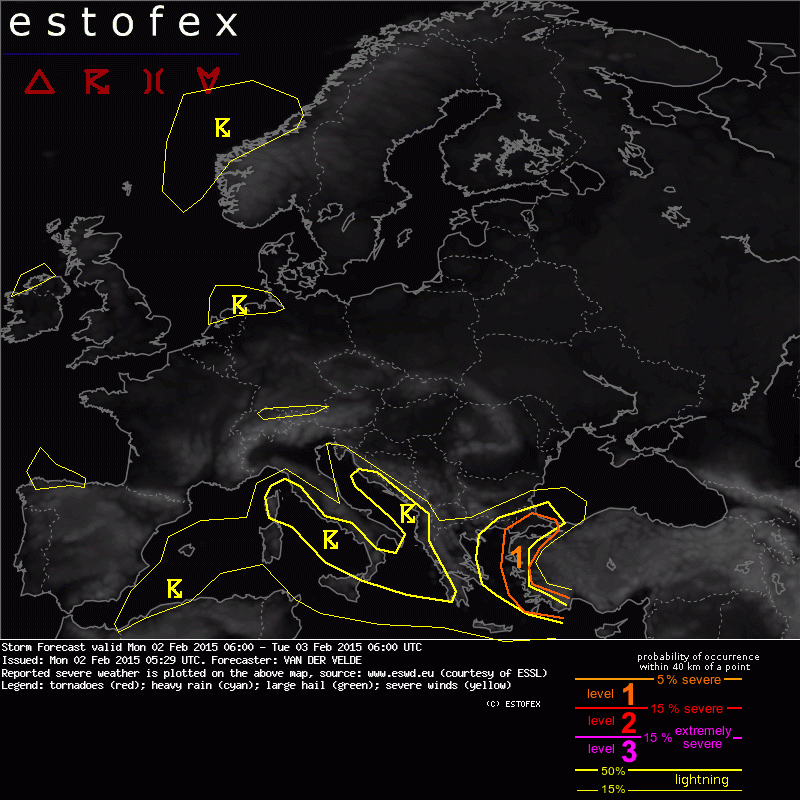 Storm Forecast
Valid: Mon 02 Feb 2015 06:00 to Tue 03 Feb 2015 06:00 UTC
Issued: Mon 02 Feb 2015 05:29
Forecaster: VAN DER VELDE
A level 1 was issued for southern Turkey mainly for chances of severe wind gusts and tornadoes.

SYNOPSIS / DISCUSSION

A very large composite low pressure system with at least 9 cores and troughs occupies Europe between Ireland and the Black Sea. The parent large-scale upper trough filled with cold air shifts slowly eastward, triggering thunderstorms over the central Mediterranean region and the Aegean Sea. Isolated waterspouts can occur in convergence zones along the coast.
The eastern Aegean and western Turkey are the focus of a baroclinic zone bordering the upper trough, with warm air advecting along the shores of Turkey and 35 m/s 0-6 km shear created by a strong jetstream overhead combined with more than 25 m/s 1-3 km flow with friction and WAA creating clockwise turning hodographs. These benefit mesocyclone and tornado formation in storms with strong updrafts. The winds aloft can be carried to ground as severe gusts by thunderstorm downdrafts.
The low traversing the Iberian peninsula from the Celtic Sea to the Mediterranean by 03Z undergoes significant intensification in the GFS model. It is accompanied by a sudden rise in CAPE values across the western Mediterranean Sea between 00-06Z Tuesday.
Between the North Sea, the Alps and Czech Republic, isolated thunderstorms may occur inland which in winter tend to produce mainly self-initiated upward lightning flashes from tall objects.