Storm Forecast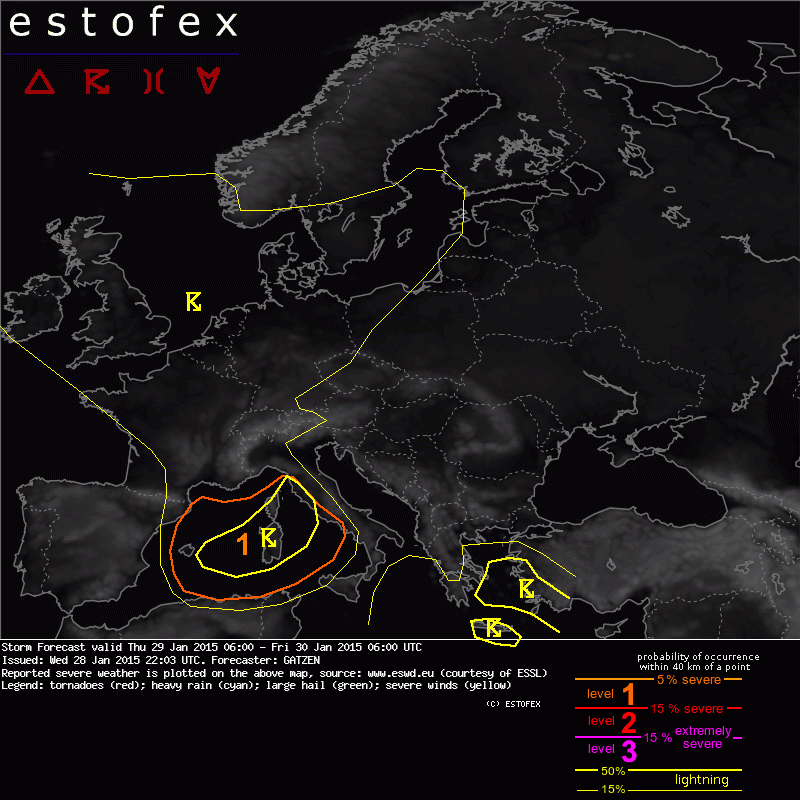 Storm Forecast
Valid: Thu 29 Jan 2015 06:00 to Fri 30 Jan 2015 06:00 UTC
Issued: Wed 28 Jan 2015 22:03
Forecaster: GATZEN
A level 1 was issued for the west Mediterranean and Tyrrhenian Sea mainly for severe wind gusts.

SYNOPSIS

An intense digging trough will affect western and central Europe, and steep lapse rates will be advected into a broad area. Limited low-level moisture will only allow for marginal CAPE, but EL temperatures can decrease to below -20°C during the day. A higher potential for thunderstorms exists across the North Sea due to the relatively warm sea surface. Deep layer vertical wind shear is expected to be weak, but low-level wind shear is rather strong, exceeding 10 m/s over land. Therefore, storms are forecast to organize into linear segments, capable of producing soft hail and gusty winds. Isolated severe wind gusts are not ruled out, but coverage is expected to be too low for a level 1 area. Given rather strong low-level veering profiles, with 0-1 km helicity around 150 m²/s², mesocyclones are not ruled out, and tornadoes are not ruled out as well, although the weak moisture is a limiting factor. Main activity is expected during the daytime, spreading from the British Isles and the North Sea to Germany and northern France. During the night, storms will likely go on across the North Sea and Baltic Sea, but a few thunderstorms can also be expected over land.

A cut-off low across the east Mediterranean Sea will slowly move eastwards. Steep lapse rates are present near the centre of this cut-off, and CAPE is expected across the Mediterranean Sea. Convective activity is forecast to go on. Although models agree on a southerly mid-level jet streak ahead of the cut-off in the morning hours, there seem to be no overlap of the stronger shear with CAPE. Later in the period, vertical wind shear is expected to weaken. Severe thunderstorms are therefore expected to be unlikely, although a few excessive rain events may be possible along the Turkish coasts.

DISCUSSION

West Mediterranean

At the western flank of the forming European long-wave trough, another intense short-wave trough rapidly moves into France late in the period. A cold front will spread into the west Mediterranean in the morning hours. The prefrontal air mass is expected to be quite moist, with a 0-1 km mixing ratio around 8 g/kg. Models indicate steepening lapse rates ahead of the cold front due to low-level warm air advection from the west and decreasing mid-level temperatures. This results in CAPE ahead of the cold front that increases to the south. A linear MCS may develop in the morning hours, moving across the west Mediterranean Sea into the Tyrrhenian Sea. Given quite strong vertical wind shear exceeding 15 m/s in the lowest 3 km, storm organization is expected, and bowing lines may develop, capable of producing severe wind gusts. Additionally, veering profiles ahead of the cold front can support a few mesocyclones capable of producing tornadoes and large hail. However, isolated storms are expected to be rather unlikely ahead of the cold front.