Storm Forecast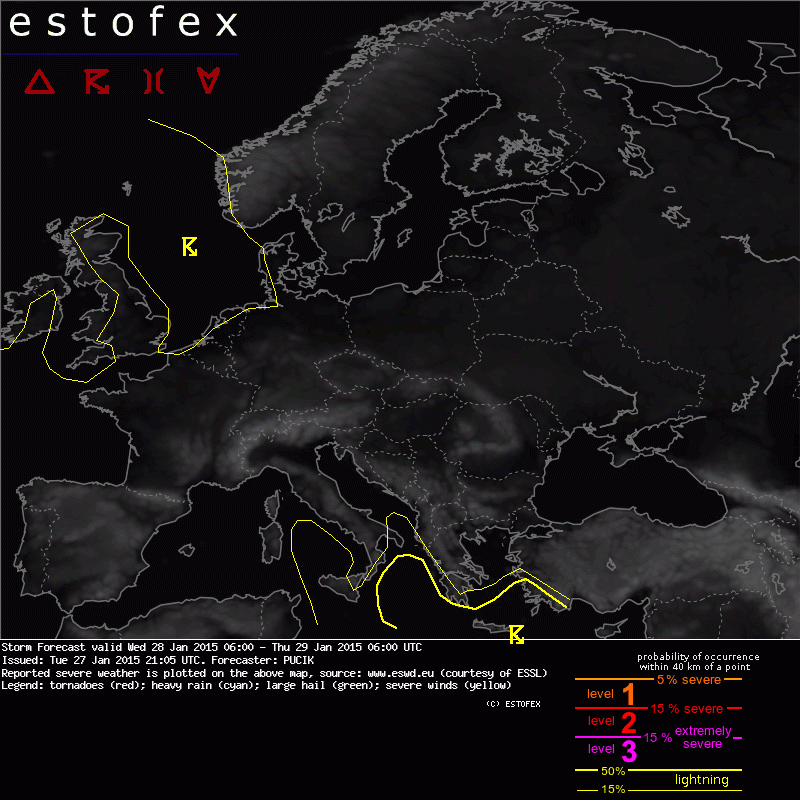 Storm Forecast
Valid: Wed 28 Jan 2015 06:00 to Thu 29 Jan 2015 06:00 UTC
Issued: Tue 27 Jan 2015 21:05
Forecaster: PUCIK
No threat levels have been issued.

SYNOPSIS and DISCUSSION

As mid to upper tropospheric low progresses SSE-wards from the Alpine region towards the southern Mediterranean, cyclogenesis is forecast over the Ionian Sea, inducing WAA over the Aegeans. Marginal latent instability is forecast to develop in the region in low to moderate degree of vertical wind shear. Lack of abundant low-level moisture, concentrated forcing and strong vertical wind shear should preclude enhanced level of severe weather threat. Nevertheless, owing to the cool conditions, slower moving thunderstorms may produce substantial amounts of sub-severe hail. Also, as the mid tropospheric low with steep lapse rates drops southward, especially coastlines around S Italy and Sicily may experience some waterspout activity.

Towards northwest, another low pressure system will deepen over the Norwegian Sea. Its frontal system will quickly pass the Atlantic towards Central Europe with an arctic maritime airmass characterised by steep lapse rates following its course. Especially over the sea, marginal instability will result in banded showers and perhaps a few weakly electified thunderstorms.